Where is the Wizard?!?!?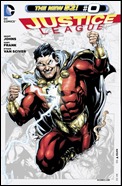 Writer: Geoff Johns
Artist: Gary Frank
Cover Art: Gary Frank
Publisher: DC Comics
Cover Date: November 2012
Cover Price: $3.99
Ok. I'm just going to come right out and say it. I don't like what they're doing with Shazam. At all. Now look, I can't say I know all the particulars of the once Captain Marvel/now Shazam. I can't say I was a big Shazam fan growing up, either. I do vaguely remember watching the show on TV, but that was a bit before my time.