MEMORIAL Returns With Some
"Imaginary Fiends"!
Chris Roberson and Rich Ellis Launch a New Digital Miniseries!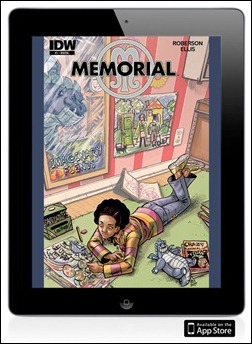 Press release
IDW Publishing is thrilled to announce the follow-up to the acclaimed miniseries MEMORIAL, by Chris Roberson (Edison Rex, iZombie), Rich Ellis (Stars Below, Twilight Zone), and Grace Allison (Wander)! MEMORIAL: IMAGINARY FIENDS is a brand-new, digital-only return to the colorful world of the original series.
"The first Memorial miniseries that Rich Ellis and I did was always intended to be the beginning of Em's story, not the end," said series co-creator and writer Roberson. "With Imaginary Fiends, we have the opportunity to pick up where the first miniseries left off, and explore more of the world (or WORLDS) that she and the other characters inhabit. This time around, we visit the Land of Maybe, and see what effect its destruction has had on the real world, in a story that's all about childhood, parenthood, imagination, memory, and loss. Also, talking cats and dragons."