IDW Announces Details for JOE KUBERT'S TARZAN OF THE APES ARTIST'S EDITION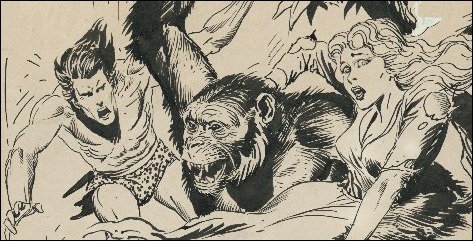 Limited Remarqued Edition also available from IDW in October.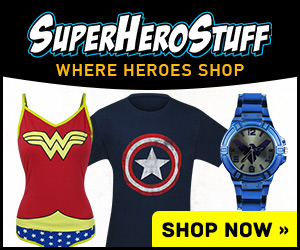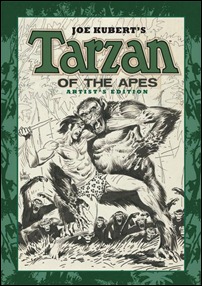 Press release
Joe Kubert's Tarzan of the Apes: Artist's Edition is scheduled to be in comic book stores the last week of September. Collecting the entire four-part origin story of Tarzan, as well as two single part adventures, all adapted by Joe Kubert from the classic Edgar Rice Burroughs stories.
Additionally, a signed, numbered, and remarqued version will be released in October and is only available through IDW Publishing. Limited to 181 copies, and each with a unique head sketch of Tarzan by Joe Kubert, IDW will donate $50.00 from each copy sold of this special edition to a scholarship fund in Joe's name established at the Joe Kubert School of Cartoon Art.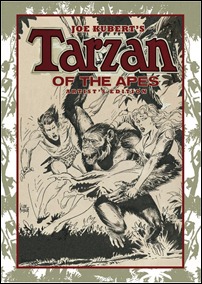 "It was a great honor for me to work on this book. Joe Kubert's enthusiasm for the project knew no bounds, he sounded as happy as a kid at play when we talked about it." said editor Scott Dunbier.
Both the regular and remarqued editions are available for pre-order now.
Pre-order the regular edition here.
Pre-order the limited, remarqued edition here.
What is an Artist's Edition?
Artist's Editions are printed the same size as the original art. While appearing to be in black & white, each page has been scanned in COLOR to mimic as closely as possible the experience of viewing the actual original art—for example, you are able to clearly see paste-overs, blue pencils in the art, editorial notes, art corrections. Each page is printed the same size as drawn, and the paper selected is as close as possible to the original art board.
Previous Artist's Editions include DAVE STEVENS' THE ROCKETEER: ARTIST'S EDITION and WALTER SIMONSON'S THE MIGHTY THOR: ARTIST'S EDITION, JOHN ROMITA'S THE AMAZING SPIDER-MAN: ARTIST'S EDITION, WALLY WOOD'S EC STORIES: THE ARTIST'S EDITION, SERGIO ARAGONES' GROO THE WANDERER: ARTIST'S EDITION, AND DAVID MAZZUCCHELLI'S DAREDEVIL: BORN AGAIN ARTIST'S EDITION. The ROCKETEER ARTIST'S EDITION won two Eisner Awards in 2011, for Best Archival Project and Best Design and THE MIGHTY THOR: ARTIST'S EDITION won the 2012 Eisner Award for Best Archival Project.
– The Comic Book Critic