DISCOVER THE FUNNY SIDE OF FRANK FRAZETTA!
A wealth of rarely-seen material by the late master returns this week!
Press release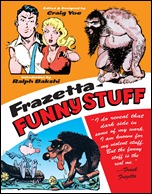 Frank Frazetta has been called "The Grand Master of Fantasy Art," but did you know he did a glorious omnibus' worth of funny sexy and funny cute stories in the Golden Age of comic books?! That's right, hillbilly babes to hoppy bunnies were drawn with the Frazetta magic. And Eisner-winning editor Craig Yoe captures that magic in the new FRAZETTA—FUNNY STUFF large format, full-color, 256-page hardcover collection from Yoe Books. FRAZETTA—FUNNY STUFF debuts at the MoCCA Fest in New York City this weekend and will be in comic book shops this week.