DISCOVER THE FUNNY SIDE OF FRANK FRAZETTA!
A wealth of rarely-seen material by the late master returns this week!
Press release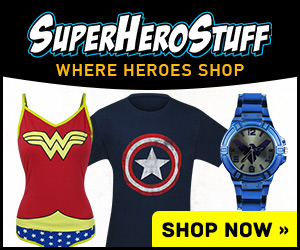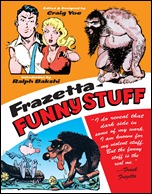 Frank Frazetta has been called "The Grand Master of Fantasy Art," but did you know he did a glorious omnibus' worth of funny sexy and funny cute stories in the Golden Age of comic books?! That's right, hillbilly babes to hoppy bunnies were drawn with the Frazetta magic. And Eisner-winning editor Craig Yoe captures that magic in the new FRAZETTA—FUNNY STUFF large format, full-color, 256-page hardcover collection from Yoe Books. FRAZETTA—FUNNY STUFF debuts at the MoCCA Fest in New York City this weekend and will be in comic book shops this week.
Yoe says, "Besides the amazing art itself, Frazetta fans will be stoked by the sheer quantity in this big thick book. There are 27 comic book stories, well over 200 of The Master's delightful text illustrations, and tons of rare and unpublished original art, illustrations and photos carefully reproduced in the introduction."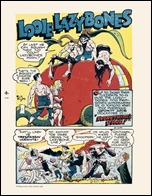 Frazetta's "Fire and Ice" collaborator Ralph Bakshi provides a compelling freeform, stream of consciousness introduction that you have to read to believe. Dig the beatnik beats of this hep cat sharing his story of working with THE MAN. Only Craig Yoe can conjure up such wild and unexpected material!
"The team at Yoe Books put countless hours in restoring these charming strips to ensure a proper vintage reading experience," said IDW Senior Book Editor, Justin Eisinger. "Like each and every Yoe Book, FRAZETTA—FUNNY STUFF is a lovingly created artifact that itself is a piece of art."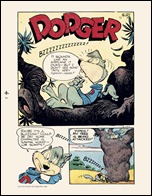 But don't just take our word for the glory of this vintage Frazetta. Here's what some fine, respectable folks have to say about the man and his funny work.
"Frank Frazetta… his comic book output was unforgettable!" —Harvey Kurtzman
"You don't have a full picture of Frank Frazetta until you've seen his funny stuff. It was his own favorite work, as it captured an important aspect of Frank that his sword and sorcery paintings did not—his warm sense of humor." —William Stout
Why stop there?! Even the great talent himself was known to claim that the funny side was the real Frazetta.
"I do reveal that dark side in some of my work. I am known for my violent stuff. But the funny stuff is the real me." —Frank Frazetta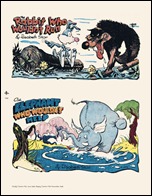 Pappy's Golden Age Blogzine says that FRAZETTA—FUNNY STUFF is "a long overdue compilation! The book is beautifully produced. I love the over-sized pages, and especially the enlarged spot illustrations. As always, Craig's books are impeccably designed and printed. Permanent binding, thick quality paper to ensure the best reproduction possible. You will never go wrong buying a book with the Yoe Books imprint."
Keep an eye out for the limited edition as well. A hot ticket item at 100 copies, it features a bookplate signed by Yoe as well as a variant cover featuring a rare drawing of one of Frazetta's much-lauded sexy gals!
Craig Yoe is available for convention appearances and interviews with the press in regards to this and his other books. Yoe Books' website is yoebooks.com
FRAZETTA – FUNNY STUFF ($49.99, 256 pages, hard cover, full color) will be available Wednesday, April 25, 2012. ISBN 978-1-61377-167-9.
– The Comic Book Critic