Dynamite Celebrates 10 Years of Publishing
With The Art of Army of Darkness Hardcover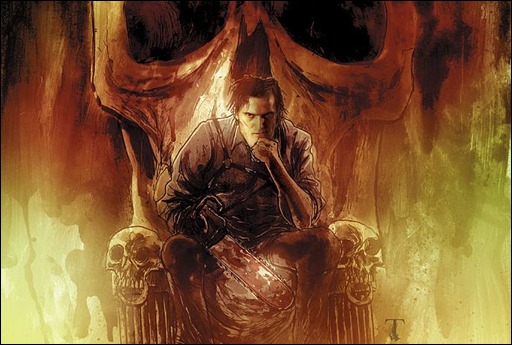 A  Collection Featuring the Greatest Artists in Comics!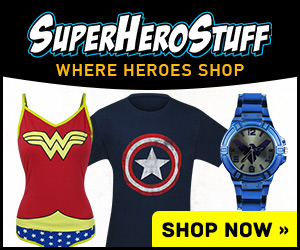 Dynamite Entertainment is releasing The Art of Army of Darkness hardcover collection just in time for Halloween this October. Groovy!
Press Release
Dynamite Entertainment proudly announces the October release of The Art of Army of Darkness, a hardcover collection of the very best cover and pin-up artwork from their ten years of publishing Army of Darkness.
Since July 2004, Ash Williams – the reluctant hero of the cult classic film, Army of Darkness – has been an integral part of Dynamite Entertainment's publishing line. Throughout the years, dozens of highly skilled comic artists have drawn and painted the hero, his undead adversaries, curvaceous love interests, and medieval armaments (like his trademark chainsaw and affectionately named "boomstick").
The Art of Army of Darkness gorgeous hardcover art book stands as a testament to the unyielding spirit of a horror cinema icon, as captured by some of the comic industry's most beloved talents: J. Scott Campbell (Danger Girl), Arthur Suydam (Marvel Zombies), Nick Bradshaw (Wolverine and the X-Men), John Bolton (The Books of Magic), Ben Templesmith (30 Days of Night), Tim Seeley (Hack/Slash), George Perez (Avengers), and many more.
The cover to The Art of Army of Darkness features artwork from the original movie poster by acclaimed painter Michael Hussar, a fan-favorite image which also served as the debut cover to Dynamite's first Army of Darkness comic book series.
Army of Darkness is a 1992 fantasy/comedy film with strong horror elements starring Bruce Campbell (Burn Notice) and Embeth Davidtz, the third installment in a trilogy featuring reluctant hero Ash Williams.  Directed by Sam Raimi (Spider-Man), the film saw its tough-as-nails, wise-cracking protagonist transported from the modern era to the Dark Ages in his continuing war against demonic evil.  Army of Darkness generated a dedicated fan following for its premise and lead actor.
The Art of Army of Darkness will be solicited in Diamond Comic Distributors' August Previews catalog, the premiere source of merchandise for the comic book specialty market, and slated for release in October.  Fantasy fans are encouraged to reserve copies of The Art of Army of Darkness with their local comic book retailers, or by placing preorders through online booksellers.
– The Comic Book Critic