Dynamite Celebrates 10 Years of Publishing
With The Art of Army of Darkness Hardcover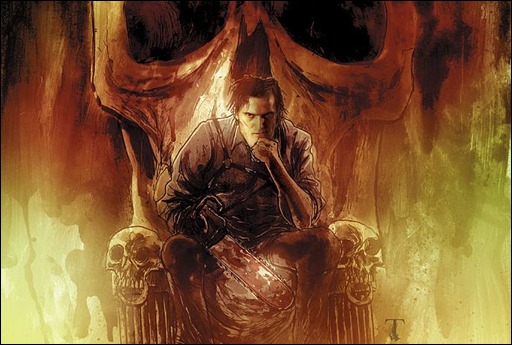 A  Collection Featuring the Greatest Artists in Comics!
Dynamite Entertainment is releasing The Art of Army of Darkness hardcover collection just in time for Halloween this October. Groovy!
Press Release
Dynamite Entertainment proudly announces the October release of The Art of Army of Darkness, a hardcover collection of the very best cover and pin-up artwork from their ten years of publishing Army of Darkness.
Since July 2004, Ash Williams – the reluctant hero of the cult classic film, Army of Darkness – has been an integral part of Dynamite Entertainment's publishing line. Throughout the years, dozens of highly skilled comic artists have drawn and painted the hero, his undead adversaries, curvaceous love interests, and medieval armaments (like his trademark chainsaw and affectionately named "boomstick").