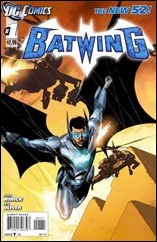 Writer: Judd Winick
Art: Ben Oliver
Colors: Brian Reber
Letters: Carlos M. Mangual
Editor: Rickey Purdin, Mike Marts
Cover: Ben Oliver, Brian Reber
Publisher: DC Comics
Cover Date: November 2011
Cover Price: $2.99
Title: "The Cradle of Civilization"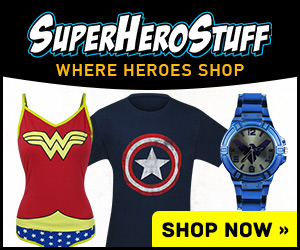 Batwing, created by Grant Morrison in Batman Incorporated, is David Zamvimbi, the Batman of Africa. Not only is he the first black Batman, he's one of the few characters featured in an American title that takes place outside of the United States.
Working for the Tinasha police department in his civilian guise, David battles not only super-villains, but also tries to combat corruption inside the rank and file of his own police force.
Batwing #1 opens with a full blown battle between Batwing and Massacre, a villain who wields a machete and tries to live up to his name. The story then flashes back to six weeks prior to the opening. With the aid of Batman, David tries to solve a horrific crime scene where victims were butchered and their limbs were piled up like an altar.
Although Batman appears in the story, it's by no means intrusive. Instead of taking over the book like so many character crossovers do, Batman's presence reinforces the character of Batwing and shows he can stand on his own.
Judd Winick's story was a treat to read. I wasn't expecting much from Batwing #1 and it was surprisingly good. The art by Ben Oliver and Brian Reber's colors are just beautiful in this book. They make even the most violent parts of the book look magnificent. And make no mistake about it, there are some really horrific and violent pages in the story.
Not having read Grant Morrison's Batman Incorporated, I wasn't really sure what to expect from Batwing #1 and I was pleasantly surprised at the quality of the story. It had all the elements you'd expect from a great superhero title, from story to art to action. Batwing #1 also ends on a surprise splash page. That's one page that makes me want to read Batwing #2… RIGHT NOW!
Batwing is easily one of the best DC Comics New 52 relaunch titles.
– The Comic Book Critic
Comic Book Critic Rating: 9.0