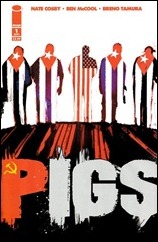 Writers: Nate Cosby, Ben McCool
Artist: Breno Tamura
Colors: Christopher Sotomayor
Lettering & Design: Rus Wooten
Cover & Logo: Jock
Publisher: Image Comics
Cover Date: September 2011
Cover Price: $2.99
Title: "Hello, Cruel World"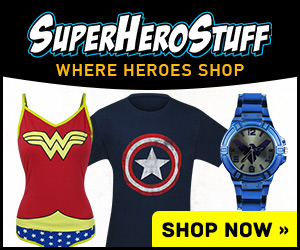 If you like mystery and espionage – then Pigs by Nate Cosby and Ben McCool is what you should be reading. In the present day, a second generation KGB Cuban sleeper cell is activated and it's mission is to overthrow the United States government.
Pigs #1 is a very tight and well written espionage story that could have very well come from a best selling spy novel. As the story flips through two timelines, the past and present, we're introduced to several characters along the way – even though they're not fully explained.
When an old man in Cuba dies while riding his bike, a "family" mourns his death and things get tense. The family makes sure nothing "accidental" happened to the old man and they start to make plans for the future. These events in the past don't tell us much, but they certainly set up what's about to happen in the present.
In the present, US Agents are interrogating an older woman who seems to be in control of the situation more than they are. The issue ends on a hell of a cliffhanger and a last page shocker! These are the types of stories that keep the reader wanting more.
Breno Tamura does a wonderful job in illustrating and pacing the story. Through his art and the writing by Cosby & McCool, the characters come across as realistic and not caricatures of themselves in the story. The tension comes across as intended throughout the entire issue. It's only been one issue, but already I'd love to see this adapted as a movie or TV mini-series. It's better than most of what's currently in production.
Not only did I enjoy the story, but the cover by Jock is outstanding as well. It fits perfectly with the story and it certainly is an eye catcher! If more people read comics like these, I'm sure the industry would be a healthier one.
– The Comic Book Critic
Comic Book Critic Rating: 9.5