Grand Passion, A Hard-Boiled Crime Story By James Robinson & Tom Feister Arrives In November From Dynamite Entertainment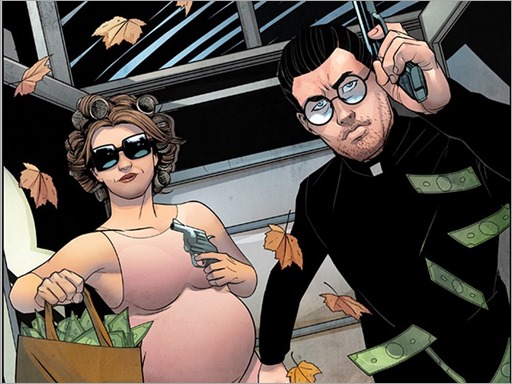 First Issue Debuts in Comic Stores on Wednesday, November 16th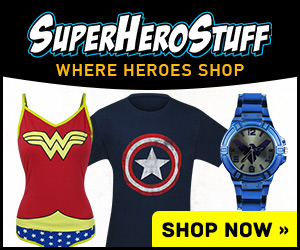 Here's your first look at Grand Passion #1, a crime story writer James Robinson and artist Tom Feister, on sale November 16th, 2016 from Dynamite Entertainment.
Press Release
One of the comic industry's finest – James Robinson (Squadron Supreme, Scarlet Witch, Starman) – delivers the surprising, funny, violent, and sexy tale of romance that fans have been clamoring for: Grand Passion!
Dynamite Entertainment is proud to announce that Robinson's highly-anticipated series will launch with its first issue on Wednesday, November 16th, and welcomes Tom Feister (the Eisner Award-nominated inker of Ex Machina) as the interior artist, and John Cassaday (Star Wars, Uncanny Avengers) as the cover artist.
Doc's a cop. Mabel's a crook. They're two wayward souls, fated to fall in love at first sight… even as Mabel swears to kill Doc if it's the last thing she does. A tale as only James Robinson could deliver, marrying elements of a Harlequin romance and hard-boiled crime.
"Something I've noticed lacking in a lot of comics is unbridled romance," says writer James Robinson. "The crazy kind when it's all life and death and love at first sight, so combining that with the hard-boiled crime milieu was something that really appealed to me. This is my attempt at doing something equal parts crazy love and crazy violent."
"I've been a fan of James Robinson since I picked up the ashcan Zero issue of Starman" says series artist Tom Feister. "The opportunity to tell one of his stories on my first time out as an interior artist has been wonderfully terrifying."
"It's been a life-long dream of mine to work with James Robinson. All of us here at Dynamite are giant fans of his writing. His run on Starman with Tony Harris is one of the best storylines ever told with the character. He reinvented the character and added new dimensions to the tapestry that, in my opinion, no other writer could have, and he's continued that quality of writing to this date," says Dynamite CEO and Publisher, Nick Barrucci. "Grand Passion builds upon the previous works of the likes of Garth Ennis and Andy Diggle to further establish Dynamite as the premier publisher of crime comics. Tom Feister's art perfectly fits the tone, and John Cassaday's covers round out the perfect package!"
James Robinson is a multiple Eisner-winning writer perhaps best known for the 1994 reimagining of DC's Starman, taking the character out of the background to find a new widespread audience and take home an Eisner for Best Serialized Series. An expert at revitalizing classic concepts with a fresh new look and perspective, Robinson has also had celebrated runs on Justice Society of America, Batman: Legends of the Dark Knight, Hawkman, and more. His creator-owned series Leave It to Chance for Image Comics won two more Eisner Awards in 1997, for both Best New Series and Best Title for Younger Readers. Additionally, he was nominated for an Eisner Award for Justice League: Cry for Justice, and also wrote the screenplay for the 2003 theatrical version of Alan Moore's The League of Extraordinary Gentlemen.
Tom Feister has an extensive history working at Marvel, DC, and IDW as a penciller, inker, and cover artist. He was nominated with Tony Harris in 2007 for the Best Penciller/Inker Team Eisner Award for their work on Ex Machina. His other notable works include Avengers, Artifacts, G.I. Joe, and Fantastic Four.
Grand Passion #1 features a cover by the one and only John Cassaday, and will be solicited in Diamond Comic Distributors' September 2016 Previews catalog, the premier source of merchandise for the comic book specialty market, and slated for release in November. Comic book fans are encouraged to reserve copies of Grand Passion with their local comic book retailers. Grand Passion will also be available for individual customer purchase through digital platforms courtesy of Comixology, Dynamite Digital, iVerse, and Dark Horse Digital.