MEMORIAL Returns With Some
"Imaginary Fiends"!
Chris Roberson and Rich Ellis Launch a New Digital Miniseries!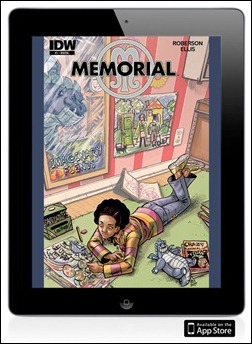 Press release
IDW Publishing is thrilled to announce the follow-up to the acclaimed miniseries MEMORIAL, by Chris Roberson (Edison Rex, iZombie), Rich Ellis (Stars Below, Twilight Zone), and Grace Allison (Wander)! MEMORIAL: IMAGINARY FIENDS is a brand-new, digital-only return to the colorful world of the original series.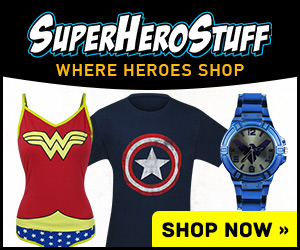 "The first Memorial miniseries that Rich Ellis and I did was always intended to be the beginning of Em's story, not the end," said series co-creator and writer Roberson. "With Imaginary Fiends, we have the opportunity to pick up where the first miniseries left off, and explore more of the world (or WORLDS) that she and the other characters inhabit. This time around, we visit the Land of Maybe, and see what effect its destruction has had on the real world, in a story that's all about childhood, parenthood, imagination, memory, and loss. Also, talking cats and dragons."
Launching today, MEMORIAL: IMAGINARY FIENDS will be told across nine eight-page installments, released biweekly for only 99¢.
"I've long believed that digital distribution was destined to play a large part in the future of comics, and was delighted when IDW suggested that we structure the next Memorial storyline as a digital original serial," Roberson continued. "Distributing the serial digitally through the IDW Comics app and Comixology gives us the opportunity not only to provide more story to readers who might have enjoyed the first Memorial miniseries, but also to reach new readers who have never encountered these characters before."
Returning to a world where memories lost to time are being recovered, MEMORIAL is a feast for the eyes and the mind and IMAGINARY FIENDS is the next chapter in this thrilling story!
IMAGINARY FIENDS kicks off today, but the first MEMORIAL hardcover collection is also available now!
MEMORIAL HC ($24.99, FC, 152 pages) ISBN #: 978-1-61377-354-3, Diamond code: JUN120412.
– The Comic Book Critic