This Fall, KISS KIDS Proves You're Never Too Young to Rock!

The tiny terrors hit stands in an all-ages new series!

Press Release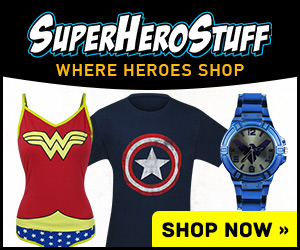 Ah, the simple pleasures of just being a kid. Lemonade stands, little league games, advanced fort building, rocking the faces off of millions of screaming fans all over the world while thwarting the plans of your evil school Principal.
If a couple of those cherished childhood memories sound unfamiliar, that's because they can only be found in KISS Kids, the new series starring the pint-sized rock gods! Join Starchild, Li'l Demon, Spacey, and Catkid as they get into trouble and kick out the jams in strips featuring familiar characters and settings from KISS lore. Helmed by KISS series writers Chris Ryall and Tom Waltz with fun, expressive art by Jose Holder (Mars Attacks The Real Ghostbusters), KISS Kids promises to be a treat for fans of all-ages!
"KISS is used to rocking and rolling all night and partying every day, but back when they were little'uns, those things only happened around nap time," said Chris Ryall, also IDW's Chief Creative Officer/Editor-in-Chief. "This series will appeal to kids and Kiss fans of all ages, as we see the school-age band engage robots, evil teachers, other students, and much more, all filtered through the KISS lens. Beth, the school's Doctor Love, the snooty Torpedo Girls, the bratty "Wicked" Lester, nefarious Principal Elder… they're all here for this accessible, funny, and appealing new series."
The new KISS Kids series, coming this fall, is being previewed in the form of a one-page strip on the back cover of all four issues of this spring's Kiss Solo series. Fans will get their first real look at the Kiss Kids on April 10, when Kiss Solo #1: The Demon by Ryall and artist Angel Medina is released.
"Rock and Roll All Nite….and Potty Every Day," added the L'il Demon himself, Kiss founding member, Gene Simmons.
This fall, there's only one place for proof positive that whether you're a Starchild or a Demon, there's nothing better than rocking and rolling all night and reading comics every day!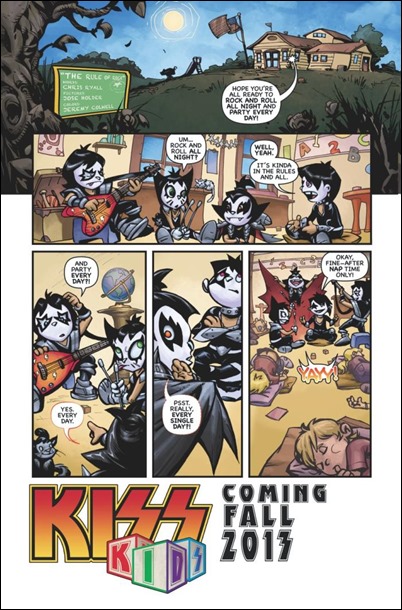 – The Comic Book Critic