Fantagraphic Books To Publish ALL TIME COMICS,
A Shared Superhero Universe Featuring The World's Most Fanta*stic Heroes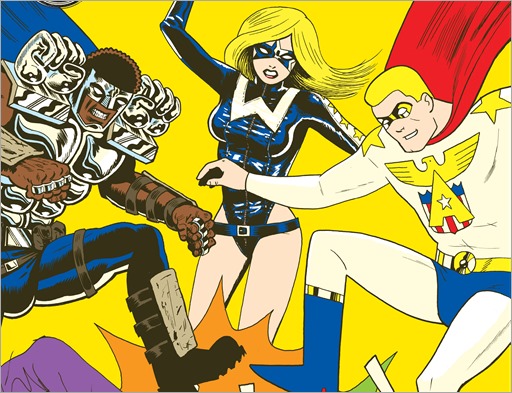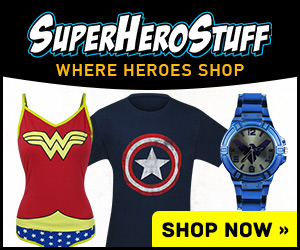 Fantagraphics Books is unveiling their new shared superhero universe, All Time Comics, with All Time Comics: Crime Destroyer #1 in March 2017. All Time Comics: Crime Destroyer #1 is written by Josh Bayer, inked by Ben Marra, and features the last artwork by Wolverine co-creator and comics legend Herb Trimpe.
Being a fan of Fantagraphics for over 30 years, I'm certainly looking forward to seeing the creativity they employ in this superhero universe featuring "the world's most fanta*stic heroes" – Atlas, Blind Justice, Bullwhip, & Crime Destroyer.
Press Release
From Fantagraphics, the publisher of the world's greatest cartoonists, comes ALL TIME COMICS, a shared superhero universe featuring the world's most fanta*stic heroes. Atlas! Blind Justice! Bullwhip! Crime Destroyer!
Each issue of ALL TIME COMICS features a mash up of new cartoonists and classic comic book creators collaborating with writer Josh Bayer to unleash superhero stories that no other publisher would dare to publish: a stunning series of six comic books featuring startling stand alone, interconnected adventures chock full of retro crime fighting. The launch title, ALL TIME COMICS: CRIME DESTROYER issue 1, is a 36 page oversized spectacular featuring the wonderful writing of Josh Bayer, the irresistible inks of Ben Marra, and the last art by legendary artist Herb Trimpe, who co-created Wolverine. The first issue also features covers by acclaimed cartoonists Jim Rugg (STREET ANGEL) and Johnny Ryan (PRISON PIT). Upcoming issues of ALL TIME COMICS feature art by Rick Buckler (VIXEN 9), Ben Marra (TERROR ASSAULTER: O.M.W.O.T.), Al Milgrom (co-creator of Firestorm), Noah Van Sciver (DISQUIET), and more.
ALL TIME COMICS is the joint venture of the Bayer brothers: Josh Bayer, an underground comics artist and teacher, and acclaimed mainstream director Samuel Bayer, who launched his career 25 years ago with Nirvana's "Smells Like Teen Spirit" video.
"There's an alchemy to the Bayers' editorial vision that is undeniably exciting, and I've gotten a genuine charge out of their enthusiasm for ALL TIME COMICS," said Fantagraphics Associate Publisher Eric Reynolds. "In a market flooded with crass attempts to cash in on Hollywood's interest in superheroes, ALL TIME COMICS is that rare project motivated by a sincere appreciation and affection for the creators behind the creations."
"ALL TIME COMICS is both an expression of affection for the books that shaped our lives, and a link to a pre-internet time when comic book culture was more precious and rarefied. It originates from a lifetime of research and our devotion to the comics medium," says Josh Bayer. "This project is a chance to work with not only acclaimed independent figures like Noah Van Sciver and Ben Marra, but to spotlight superstars of the field like Al Milgrom and Herb Trimpe. I see ALL TIME COMICS like an Obelisk: something that can be admired but with a greater significance beyond itself. It stands for all comics."
"I am so excited by the combination of writers and artists that we have working on ALL TIME COMICS," says Sam Bayer. "We're bridging generations of creators — veterans from the 70's with contemporary creators — to make comics that are retro cool."
In addition to featuring the last art by Wolverine co-creator Herb Trimpe, ALL TIME COMICS features the first work of veteran artist and industry legend Al Milgrom since 2014. "It's exciting to be a part of this new publishing venture, All Time Comics," says Milgrom, "Independent comics have a raw energy and enthusiasm that pushes the comics envelope. I've really enjoyed inking BULLWHIP and BLIND JUSTICE and I'm looking forward to this old dog learning some new tricks!"
ALL TIME COMICS is a shared superhero universe featuring four heroes: Atlas, Blind Justice, Bullwhip, and Crime Destroyer.
"Working with Sam and Josh on ATC was about as close to a dream comic-book project as I could ever hope to be a part," says artist Ben Marra. "Since I was young I've been a fan of superhero comics. I've always wanted to draw superhero comics. Working on the character designs from the ground up, then being able to collaborate with comic book legends, artists I've looked up to since I was a kid, Herb Trimpe and Al Milgrom, was an incredible experience."
"Sam came to me with the foundation of the characters already laid out," says Josh Bayer. "I was able to start coming up with details like Atlas' origin and backstory, Bullwhip's villains and supporting cast, and a lot of Blind Justice's story, which I'm maybe the proudest of. I was inspired by details of Bill Mantlo's life after I read that that he lived in a head trauma center for years after his comics career was ended by a hit and run driver in 1992, I made up the Optic City Center for Cranial trauma Victims as a base of operations for Blind Justice. I also brought in a lot of stuff that fascinated me about the 1980s into some of the stories, basing supporting characters The Misogynist and Candy Chryssalium on figures from 1980s culture, since the whole concept of ATC is about folding time back on itself, trying to go back to right some wrongs, and do things over the way I think comics should be done."
The oversized first issue of ALL TIME COMICS: CRIME DESTROYER issue 1 will retail for $4.99, and subsequent standard size issues will retail for $3.99.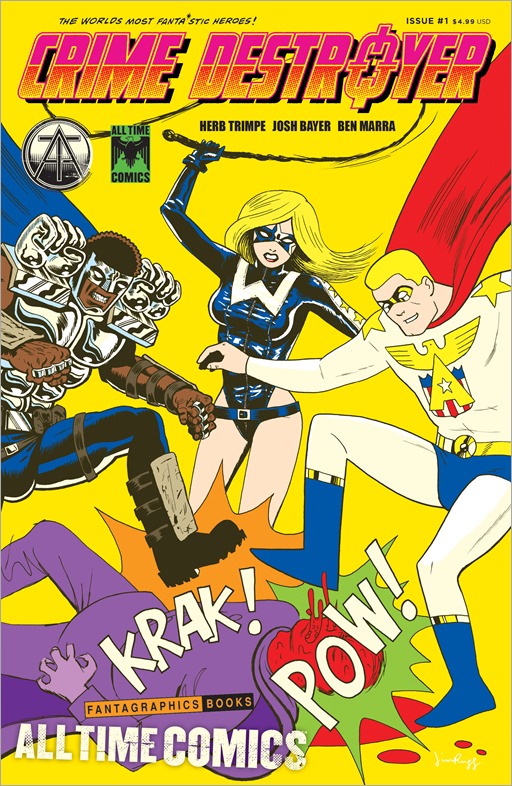 Keep up with the newest Crime Destroyer, Atlas, Blind Justice, and Bullwhip at http://www.fantagraphics.com/alltime1/  Follow ATC via Twitter at @alltimecomics and via Facebook @ALLTIMECOMICS. Don't miss the most talked about superhero event not published by a corporate conglomerate when the adventures of the world's most fanta*stic heroes begin in March 2017!
ALL TIME COMICS: CRIME DESTROYER #1
Josh Bayer (story); Herb Trimpe (pencils); Ben Marra (inks); Jim Rugg (cover) + Johnny Ryan (cover); MARCH 2017
ALL TIME COMICS: BULLWHIP #1
Josh Bayer (story); Ben Marra (pencils); Al Milgrom (inks); Das Pastoras (cover) + Tony Millionaire (cover); APRIL 2017
ALL TIME COMICS: ATLAS #1
Josh Bayer (story); Ben Marra (story, pencils, inks); Das Pastoras (cover); MAY 2017
ALL TIME COMICS: BLIND JUSTICE #1
Josh Bayer (story and pencils); Rick Buckler (pencils); Al Milgrom (inks); Victor Martinez (cover); JUNE 2017
ALL TIME COMICS: CRIME DESTROYER #2
Josh Bayer (story); Ben Marra (story, pencils, inks); Das Pastoras (cover); JULY 2017
ALL TIME COMICS: BLIND JUSTICE #2
Josh Bayer (story); Ben Marra (story); Noah Van Sciver (pencils); Al Milgrom (inks); Das Pastoras (cover); AUGUST 2017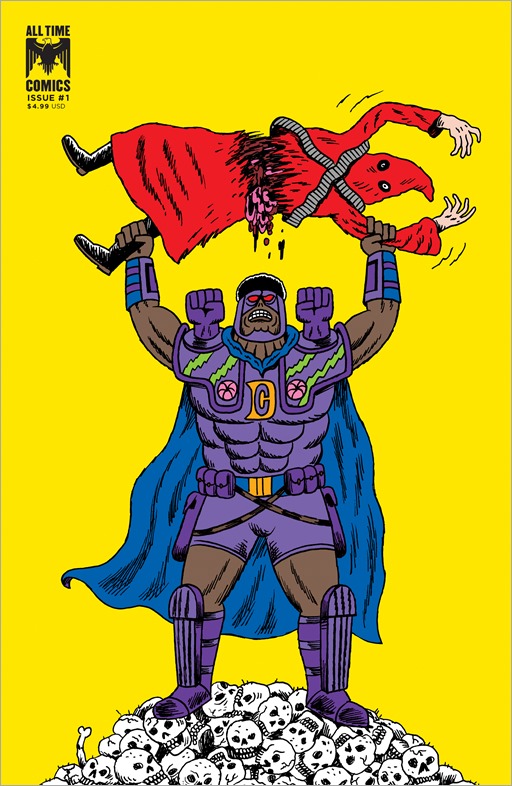 ABOUT THE ALL TIME COMICS CREATORS
Josh Bayer began his underground comics practice in 1988. Aside from producing singular works of comic art, such as RAW POWER and THETH, he is the co-creator of ALL TIME COMICS with his brother Sam. Josh is also an acclaimed art Instructor,  teaching comics and illustration at Parsons and The 92Y Art Department in New York City, and as an editor and writer on the comics anthologies SUSPECT DEVICE and THE BLACK HOOD which he produced for his own COMICS ARE THE ENEMY press.
Samuel Bayer, an award-winning visual artist, photographer, director and cinematographer, has built a career on translating his aesthetic vision into meaningful storytelling. Bayer first launched his career with Nirvana's "Smells Like Teen Spirit," a landmark video which MTV has consistently rated as one of the most iconic music videos ever made. He has also created videos for artists as diverse as David Bowie, The Rolling Stones, and Maroon 5. On the commercial side, Bayer has directed for clients including Nike, Mercedes Benz, BMW and Pepsi. His 2011 Super Bowl spot for Chrysler "Born of Fire" won an Emmy and a Cannes Gold Lion. In the art world, a one man show of his photography was exhibited at the Ace Gallery in Los Angeles in 2013 and selections of his films are displayed in the permanent collection at the Museum of Modern Art in New York.
Rick Buckler is a long time contributor to many comics publications including VIXEN 9, which he co-created with writer Darryl Taylor, SHADOWFLAME and RIPPERMAN. He trained at Neal Adams' CONTINUITY STUDIOS and is the son of Bronze age comic book veteran Rich Buckler (creator of Marvel's Deathlok).
Benjamin Marra is the notorious and influential creator of the successful underground comic books NIGHT BUSINESS, GANGSTA RAP POSSE, THE INCREDIBLY FANTASTIC ADVENTURES OF MAUREEN DOWD, LINCOLN WASHINGTON: FREE MAN!, RIPPER AND FRIENDS, BLADES & LAZERS, and TERROR ASSAULTER: O.M.W.O.T. (ONE MAN WAR ON TERROR). Marra's comic book work has drawn comparison to mainstream masters Paul Gulacy and Jim Steranko along with underground comix legends, like Robert Crumb and Spain Rodriguez. Marra's illustration work has been recognized by The Society of Illustrators, The Society of Publication Designers, 3×3, American Illustration and in 2006 he was named one of the Art Directors Club's Young Guns.
Jason T. Miles is a cartoonist, publisher, editor, workshop instructor and explorer based in Seattle, Washington, USA.
Allen Milgrom was born March 6, 1950 in Detroit, Michigan. Al graduated from the University of Michigan with a degree in art and design in 1972 and moved to New York. After a year interning at DC Comics with legendary artist, Murphy Anderson, Al began inking and, soon after, penciling. He's worked on lots of comics over the years, (penciling, inking and even some writing) primarily for Marvel Comics, but he also co-created Firestorm at DC Comics and did work at Archie Comics as well as Atlas, Dark Horse and others. He also did stints as an editor at Marvel and DC. Married to his wife, Judy, since 1979. They have a daughter and two sons and the cutest grandson and granddaughter ever to walk the earth (of course he may be biased).
Rick Parker is widely known as the artist of the BEAVIS AND BUTT-HEAD comic book, as well as being the artist of THE PAPERCUTZ SLICES series of graphic novels parodying such popular entertainment properties as THE WALKING DEAD, HARRY POTTER, and THE HUNGER GAMES. Rick has hand-lettered over 1,100 titles including P.Craig Russell's adaptations of Neil Gaiman's THE GRAVEYARD BOOK (Harper Collins) and AMERICAN GODS (Dark Horse).
Eric Reynolds is the Associate Publisher of Fantagraphics Books.
Matt Rota is an illustrator living and working in Brooklyn New York, and is an instructor at the School of Visual Arts. His clients include THE NEW YORK TIMES, THE NEW YORKER, THE LA TIMES, FAST COMPANY, McSWEENY'S, FOREIGN POLICY MAGAZINE, SMITHSONIAN MAGAZINE, THE WASHINGTON POST, THE BOSTON GLOBE, CHRONICLE BOOKS, MEDIUM, PRO PUBLICA, The Center For Investigative Research, COLUMBIA JOURNALISM REVIEW, GQ ITALY, VICE, and more. He's received awards and recognition from the Society of Illustrators, Communication Arts, 3×3 MAGAZINE, Spectrum, AMERICAN ILLUSTRATION, and Luerzer's Archive. His drawings have been displayed at galleries in New York, Paris and Los Angeles.
Jim Rugg makes comics, books, drawings, illustrations, and designs. His books and comics include STREET ANGEL, AFRODISIAC,THE PLAIN JANES, RAMBO 3.5, NOTEBOOK DRAWINGS, and SUPERMAG. He has exhibited drawings at iam8bit, Gallery1988, Mondo, and the Society of Illustrators. Honors include Eisner and Ignatz Awards, The Pittsburgh Foundation's Investing in Professional Artists grant, and AIGA's 50 Books/50 Covers selection for best-designed books. He teaches classes in the MFA Visual Narrative program at the School of Visual Arts and co-hosts BoingBoing.net's TELL ME SOMETHING I DON'T KNOW podcast.
Johnny Ryan's utterly unpretentious taboo-tackling is an infectious and hilarious bombardment of political incorrectness, taking full advantage of the medium's absurdist potential for maximum laughs. In an age when the medium is growing up and aspiring to more mature and hoity-toity literary heights, Ryan builds on the visceral tradition that cartooning has had on our collective funny bone for over a century. Johnny was born in Boston, Massachusetts and grew up in shitty Plymouth, just a mile away from the Pilgrim Nuclear Power Plant. He now lives in Los Angeles with his wife and daughter.
Noah Van Sciver first garnered attention with his critically acclaimed comic book series BLAMMO, which has earned him 3 Ignatz award nominations. His work has appeared in SPONGEBOB Comics, TEENAGE MUTANT NINJA TURTLES, MAD, BEST AMERICAN COMICS, and THE STRANGER, as well as countless anthologies. Noah has authored four graphic novels: THE HYPO: THE MELANCHOLIC YOUNG LINCOLN, YOUTH IS WASTED, SAINT COLE and FANTE BUKOWSKI: STRUGGLING WRITER. Right now he is probably drawing.