Previews for January:
My thoughts and observations – part 2
You know what they say…last, but not least…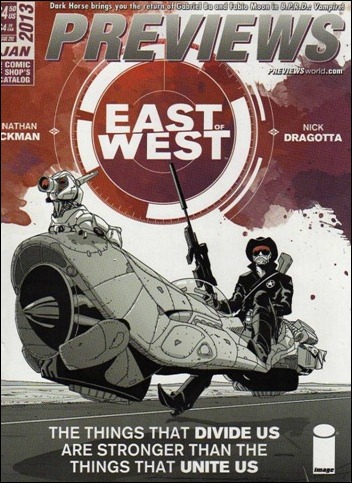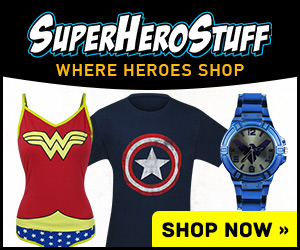 Publisher: Diamond Distributor
Cover Date: January 2012
Cover Price: $4.99
You can check out the first part of this article here. I'm only providing you the link as a reference. 'Cause I KNOW you checked it out already. Right?!?!?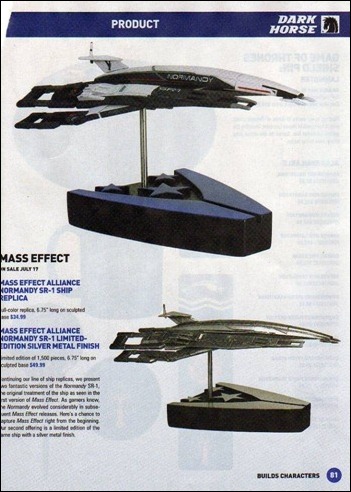 Mass Effect Alliance Normandy SR-1 Ships – I'm by no means a gamer of any sort, but that is one bad looking ship. I prefer the non-metal finish ship, but either way…at $34.99/$49.99, either one might be worth picking up.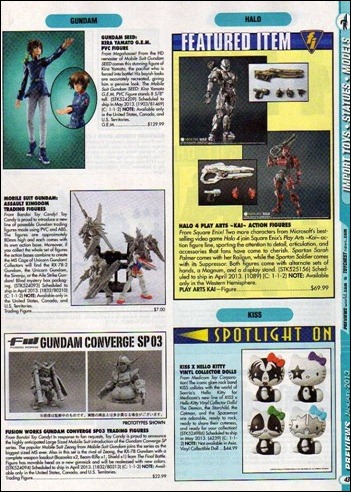 KISS X Hello Kitty Vinyl Dolls – Like I said in the first part of this article, you gotta admire Gene and his marketing skills. He'll slap KISS on anything and everything. The down side of that philosophy? Stuff like this…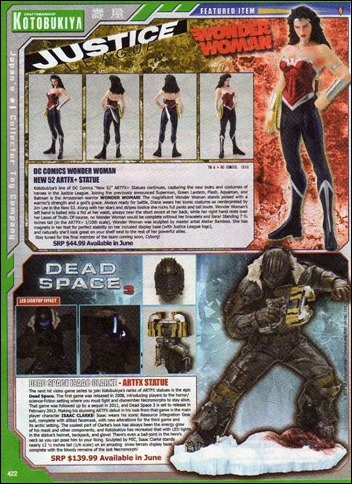 DC Comics Wonder Woman New 52 ARTFX+ Statue – Is it me, or does Japan have the coolest toys ever? I mean, this is an import! Why can't we get this stuff here? I know. I know. Licensing deals and what have you. Blah, blah, blah. And at 44.99?!?! Wondie's deal! The vinyl statues DC Collectibles releases are like $69.99! I'm telling you…Wondie's a deal!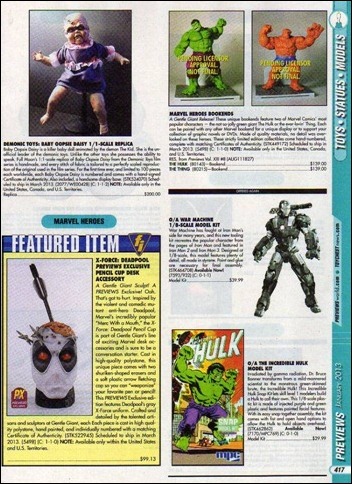 X-Force Deadpool Previews Exclusive Pencil Cup – For real…be honest, here. I'll know if you're lying. How cool is this thing? How awesome would this be with the desk of your desk pets? I'll answer that for you. It would be AWESOME. The only thing that's a smidge disappointing is that you can't just jam your pens/pencils into 'pool's head where ever you see fit. That and the price. So not worth it at $94.99. You know what they say though…YOLO!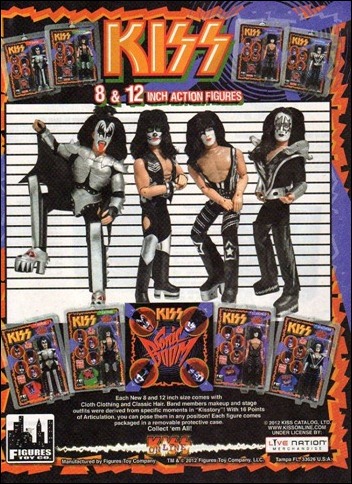 KISS 8 & 12 inch action figures – OK. Look. I "admire" the guy's marketing skills and all…but this is ridiculous! Who is clamoring for all this KISS crap!?!? Anyone?!?!? It may be time to start thinking about rolling it back a little. Just a little.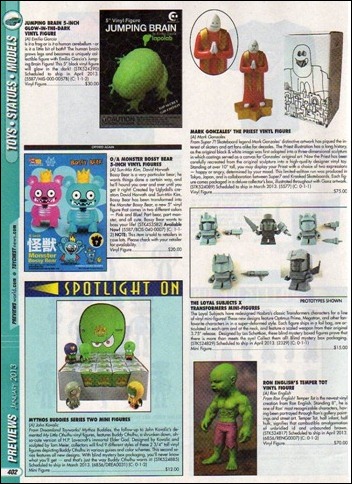 Ron English's Temper Tot – Wow! How CREEPY is this thing?!?!? Someone order it so I can see it. I ain't, though. I don't want that thing anywhere near my house. I don't want any kinda trouble with it when it comes to life at night. Cause, believe you me, if any toys come to life when no one's looking…it's probably that thing.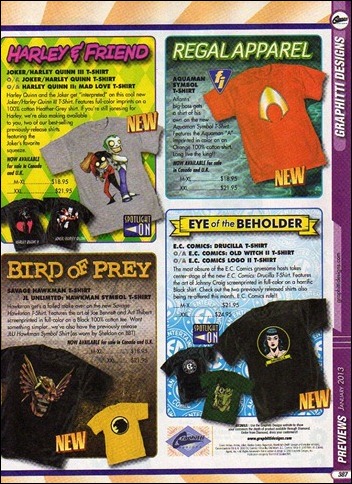 Joker/Harley III shirt– Already got this shirt on order.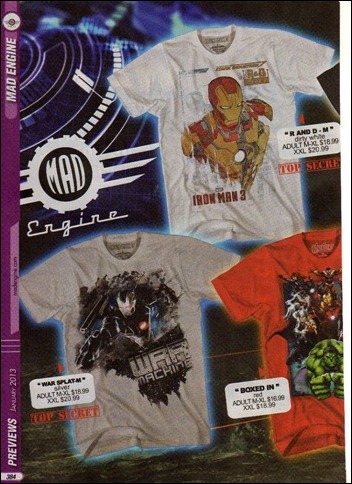 Iron Man 3 R & D shirt – And how bout this one? Cool or what?!?!?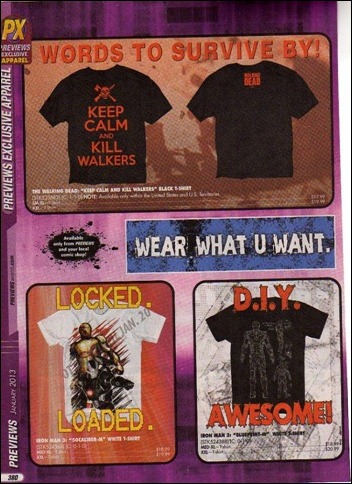 Iron Man 3 blueprint M shirt – You know…when I started going thru this month's Previews, I thought all the toys in the issue were gonna kill me. Turns out it's the shirts.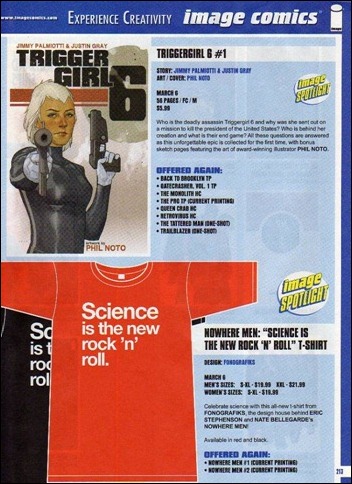 Nowwhere Men: Science is the New Rock n roll shirt – Killing me!!!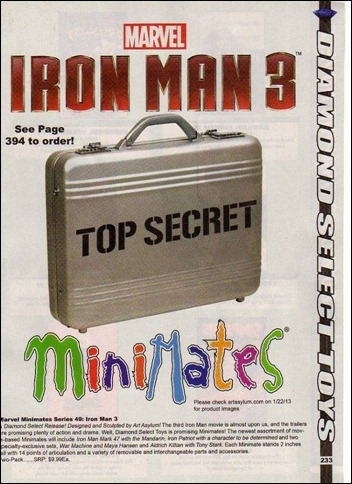 Iron Man 3 mini-mates – Top Secret?!!?? What kind of crap is this?!?!? What kind of tease is this? It's cruel and unusual. How can they expect me to plunk down hard earned cash on mini-mates if they're not gonna show them to me? Top secret?!?! Some of us, want to be spoiled…er, want to know what we're buying ahead of time. Yea! That's it!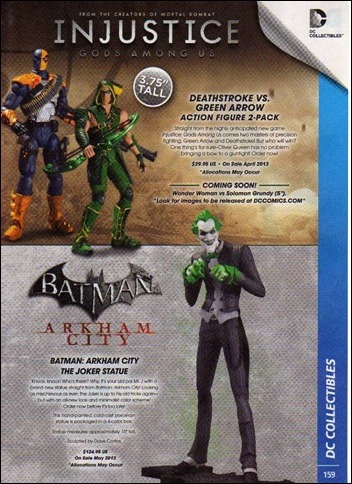 Injustice: Gods Among Us 2 pack – Jury's out on that Deathstroke, but Arrow? Oh…I've got my wallet opened, ready and oh, so willing. Wait…30 bucks?!!? Are you kidding me?!? Fine fine fine. I'll turn the money over, but my wallet ain't so willing anymore.
—
by Jesse
the Container of Useless Accessories
this is what it sounds like, when doves cry…