Robert Venditti & Rafa Sandoval Officiate "The Wedding of X-O Manowar" in X-O MANOWAR #38 – A 48-Page Spectacular Coming in July!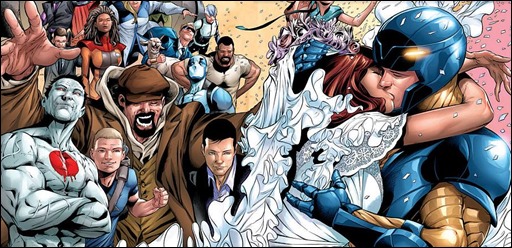 Here's your first look at X-O Manowar #38, the 48 page wedding spectacular by Robert Venditti and Rafa Sandoval (along with many others), on sale July 1st, 2015 from Valiant Comics.
Press Release
Save the date…because, on July 1st, you're invited to…the wedding of X-O Manowar!
Valiant is proud to present the first look inside X-O MANOWAR #38 – an oversized, 48-page wedding spectacular from New York Times best-selling writer Robert Venditti (BOOK OF DEATH, Green Lantern), red-hot artist Rafa Sandoval (Ultimate Hawkeye) and an all-star cast of special guests from across the Valiant Universe! On July 1st, witness the summer's most joyous celebration as Aric of Dacia – aka the unstoppable X-O Manowar – and his bride-to-be, Saana of Loam, begin a joyous new chapter for Valiant's alien-armored powerhouse!