The Man Without Fear Meets The Legion of Monsters!  First Look At DAREDEVIL #33!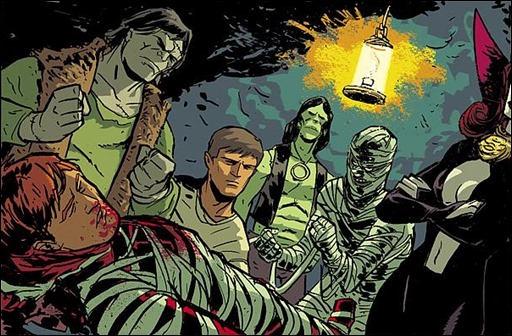 Here's your first look at Daredevil #33 by writers Mark Waid and Chris Samnee and artist Jason Copland courtesy of Marvel Comics – on sale November 20th, 2013.
Press Release
This November, Matt battles for survival against supernatural foes unlike any other in the terrifying Daredevil #33! From the award-winning creative team of Mark Waid and Chris Samnee comes one of the strangest Daredevil tales yet! The Man Without Fear's quest to end the Sons of the Serpent organization has put him in the undead clutches of the ghastly Legion of Monsters! Now, Daredevil must battle against Zombies, Werewolves, Mummies, and even the Daughter of Satan! Not to mention the Sons of the Serpent themselves! With these frightening foes closing in, is it possible the Man Without Fear might just be afraid of something after all? Don't miss the shocking Daredevil #33 for the answer!