Deadpool's Getting Hitched – Your First Look at DEADPOOL #27!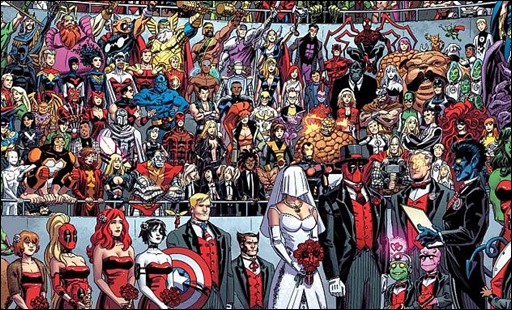 Here's your first look at six pages from the super-sized Deadpool #27 by an all-star cast of writers and artists, courtesy of Marvel Comics – on sale April 9th, 2014.
Press Release
Save the date! The Merc With a Mouth is about to become the Merc in Matrimony this April in the pages of the super-sized DEADPOOL #27 – from current Deadpool writers Gerry Duggan & Brian Posehn along with an epic assortment of past Deadpool writers!
A day you never dreamed would come has finally arrived – and it's going to be anything but traditional. For starters, his bride Shiklah is an ancient and royal succubus (see Deadpool: The Gauntlet). Believe us, the ceremony is going to be one for the ages!