Gail Simone Headlines All-Female Writing Teams On Epic "Swords of Sorrow" Event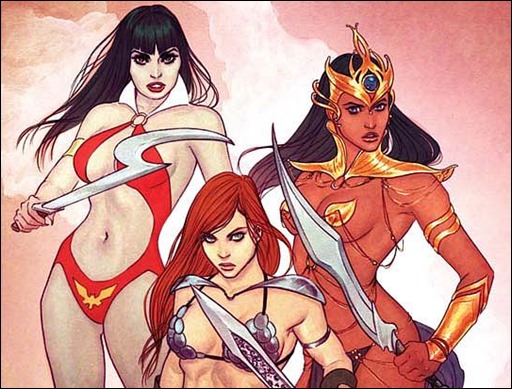 UNITING RED SONJA, DEJAH THORIS, VAMPIRELLA, AND MORE DYNAMITE ICONS FOR CORE SERIES AND TIE-IN TITLES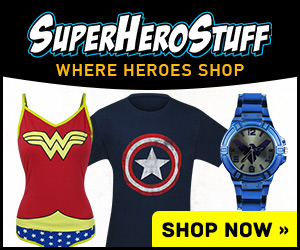 In May, Dynamite Entertainment is launching a genre-spanning crossover event, Swords of Sorrow, featuring an all-star lineup of female authors headlined by Gail Simone.
Press Release
Dynamite Entertainment is proud to announce the May 2015 launch of Swords of Sorrow, the genre-spanning crossover event featuring an all-star line-up of female authors, headlined by Gail Simone (Batgirl, Birds of Prey).
Debuting with a core Swords of Sorrow series by Simone, the crossover continues throughout May with tie-in titles including the Swords of Sorrow: Vampirella / Jennifer Blood miniseries written by Nancy A. Collins (Vampirella, Swamp Thing); the Swords of Sorrow: Chaos special by Mairghread Scott (Transformers: Windblade); and the Swords of Sorrow: Masquerade / Kato special by G. Willow Wilson (Ms. Marvel) and Erica Schultz (M3). Subsequent months will debut related projects by additional female authors, including Leah Moore, Marguerite Bennett, Emma Beeby, and Mikki Kendall. The crossover event brings together Dynamite's wide roster of female characters, including the iconic Red Sonja, Dejah Thoris (of the popular Edgar Rice Burroughs' Warlord of Mars franchise), and Vampirella.
Gail Simone, who has been planning the project since her involvement was announced in July, says, "Here's the thing: I love pulp adventure, always have. But as male-dominated as comics have often been, the pulp adventure world seems to be even more so.  Most of the big name stars and creators are dudes, and that's fine, it's great. But it hit me… what if that wasn't the case? What if adventure pulps had also been written with female readers in mind, and awesome female characters in the spotlight? That's the scenario we are imagining, and it's just been a blast. The key players are Red Sonja, Vampirella, and Dejah Thoris, but it's such an epic-spanning, world-hopping event that we also have Kato, Jungle Girl, Lady Rawhide, Jennifer Blood, and so many more. It's the crossover I dreamed of when I was a kid, and now we get to make it happen."
Simone's core Swords of Sorrow story serves as the starting point for a new universe of pulp adventure. Illustrated by Sergio Davila (Legenderry: A Steampunk Adventure), the series features the supernatural heroine Vampirella, Martian princess Dejah Thoris, crimson-tressed swordswoman Red Sonja, martial artist Kato (from filmmaker Kevin Smith's reboot of The Green Hornet), primal warrior Jungle Girl, and many more. Drawn from a dozen worlds and eras to face off against a legendary evil that threatens their homelands, Dynamite's fiercest females must overcome their differences to harness the power of mystical blades — the eponymous Swords of Sorrow — in final conflict.
Gail Simone also serves as the architect for all storylines tied into the event, providing direction to her personally selected team of writers. "We got the best writers around, gave them a fun combination of characters and just let them go wild," says Simone. "It's creators like G. Willow Wilson, Marguerite Bennett, Nancy A. Collins and more, with book titles like Vampirella vs. Jennifer Blood, Kato vs. Masquerade, and Red Sonja vs. Jungle Girl. More about these tag teams will be coming soon, but it's just a ridiculous amount of fun to set these characters against each other, and I'm very proud of the astounding team of writers, who I hand-picked from among the very best of new female adventure writers. There's never been a crossover event in comics like this, ever."
Nick Barrucci, CEO and Publisher of Dynamite, says, "The prospect of Gail Simone helming this historic event (and I really think "historic" is the applicable term, because we've never seen such a far-ranging cast of female icons before) would have been enough to make the Dynamite team ecstatic ten times over… but then Gail took it to the next level.  She proposed to make the event even bigger by creating a tapestry of interwoven stories, a work of art to which many of today's most revered female talents could contribute. What would have been a big event suddenly became a Grand Event, and we couldn't be more pleased with the incredible creators that she's brought together, working hand-in-hand with our editorial team to create some of the best comics of the summer."
Several of the participating writers contributed their thoughts on the event:
Nancy A. Collins, author of the Swords of Sorrow: Vampirella / Jennifer Blood miniseries (illustrated by Dave Acosta), says, "I'm having to play catch-up; I don't have a lot of experience with tie-ins and cross-over events, as the last one was the Children's Crusade crossover at Vertigo, back in the early 1990s — but luckily, Gail Simone has been a great help in that regard. I think that the Swords of Sorrow event will give Dynamite's core fan-base what they want while helping to introduce new readers to all the wonderful characters the company has to offer." Regarding her miniseries, Collins adds, "Both Vampirella and Jennifer Blood touch on elements I've exploited in my prose novels, especially the Sonja Blue series, which is an urban fantasy with strong roots in crime noir and hardboiled pulp fiction."
Mairghread Scott, author of the Swords of Sorrow: Chaos special (illustrated by Mirka Andolfo), says, "There are few times in your career where you get asked to write a book made entirely of villains (and one tortured anti-hero), and I got to do it for the intro issue to some of the biggest names in comics. I've pulled out all the stops on this one, trading in the morally gray antagonists of my Transformers work for some straight-up evil women. It's been a blast. Swords of Sorrow: Chaos buries you in some of the darkest minds in Dynamite's roster. These are the kind of ladies who are fond of how blood stains look on six-inch heels and they make no apologies for it."
Erica Schultz, co-author alongside G. Willow Wilson on the Swords of Sorrow: Masquerade / Kato special (illustrated by Noah Salonga), says, "I love being a part of a crossover event, especially with these other amazing talents. Gail and Dynamite have put together a really great group of ladies to tell such a fantastical story. I know everyone is going to love it. Having worked on Revenge for Marvel, and my own series M3, I have a penchant for writing kick-ass ladies, and these stories fall right in line."
Swords of Sorrow #1 features a variety of cover editions, including a Main cover by industry superstar J. Scott Campbell (Danger Girl); variants by Jenny Frison, Emanuela Lupacchino; a subscription edition by Robert Hack available to fans placing preorders with their local retailers; and incentive editions by Joyce Chin, Tula Lotay, Nei Ruffino, Cedric Poulat.  Swords of Sorrow: Vampirella / Jennifer Blood #1 and the Swords of Sorrow: Masquerade / Kato special both feature covers by Billy Tan, while the Swords of Sorrow: Chaos special spotlights Joyce Chin.
The May Swords of Sorrow releases will be solicited in Diamond Comic Distributors' March 2015 Previews catalog, the premiere source of merchandise for the comic book specialty market.  Comic book fans are encouraged to reserve copies of Swords of Sorrow #1 and related titles with their local comic book retailers. Swords of Sorrow will also be available for individual customer purchase through digital platforms courtesy of Comixology, Dynamite Digital, iVerse, and Dark Horse Digital.