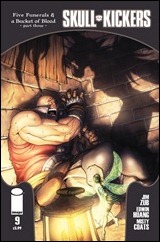 Story: Jim Zubkavich
Art: Edwin Huang
Colors: Misty Coats
Publisher: Image Comics
Cover Date: July 2011
Cover Price: $2.99
Title: Five Funerals & a Bucket of Blood – part three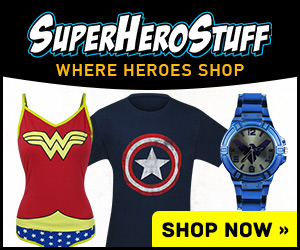 Website: Skullkickers.com
Skullkickers is a book about two traveling mercenaries, a big bald guy and a short bearded dwarf, looking to make an honest living by getting paid for killing things – or people – they're not very discerning. Things don't often go as planned when it comes to these two, actually things never go as planned. Shorty and Baldy, as they're affectionately known, tend to make a simple situation quite complicated and usually deadly.
In Five Funerals & a Bucket of Blood, the duo are wrongly set up as murderers by a group of faeries who have a beef with Urbia, the Capital city. Baldy and Shorty meet up with a den of thieves and their leader Pankey – who Baldy unsuccessfully tries to kill. This leads to a fight to the death with a horned ape in a battle pit inside the thieves' den. As we see right at the start of this issue, the ape didn't fare too well against Baldy.
Pankey strikes a deal with Baldy and Shorty – they get back the maps that were stolen from him earlier, and the duo get paid and are given the info they require to find the person who set them up. This leads to a delightful romp through the sewers featuring magic, blood, pissed off woodland creatures, angry faeries, squirrel throwing, death, and a face-to-face encounter with the person they are looking for. A typical day for the Skullkickers!
After 8 issues, Skullkickers is getting better and better. That's pretty darn good considering there's not a bad issue in the lot. Jim Zubkavich brings together all the elements of Dungeons and Dragons, action/adventure stories, a buddy film, and mixes it all together with a good dose of comedy. Edwin Huang and Misty Coats do a great job at bringing the characters to life; the timing of the comic script and art is perfect.
This is a title that I've heard good things about, but never got around to picking up a copy and I'm glad I did. Skullkickers is a great read from cover to cover. It never seems to disappoint due in part to the stupidity of the characters! Every time they try to do the right thing, they do anything but. Although in the end, they somehow wind up being the ones who stop the madness they've created and become the beneficiaries of some reward.
I'm looking forward to continuing to read Skullkickers by Jim Zubkavich. It's one of those books that will appeal to just about everyone. So if you're not currently buying it, I suggest you pick one up and join in on the fun.
– The Comic Book Critic
Comic Book Critic Rating: 9.0