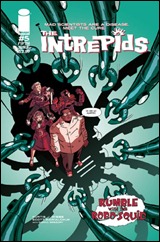 Writer, co-creator: Kurtis J. Wiebe
Illustrator, co-creator: Scott Kowalchuk
Cover, designer: Scott Kowalchuk
Colorist: Donna Gregory
Letterer: Ariana Maher
Script Editor: Brittany Matter
Publisher: Image Comics
Cover Date: July 2011
Cover Price: $2.99
Title: "Carbon Calamari"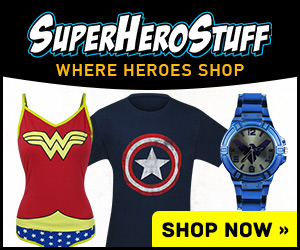 In The Intrepids #5, Crystal, Doyle, Rose, and Chester finally come face to face with Dr. Koi and things don't quite go as planned. After Chester attacks Dr. Koi, the team battles a giant robotic squid designed to protect him from harm. Afterwards, Dr. Koi reveals the truth about Dante's 'experiments' and how they relate to the creation of the Intrepids. And then it gets even more interesting!
We're shown more backstory from Dr. Koi about Dante's past, as the team find out a little more about how they came into existence; A far more darker side of Dante than the team was aware of.
In reviews of previous issues of this series I've stated how well the writing and artwork have been, and that high level of quality is still evident. The battle scenes, which take up a good portion of the issue, are masterfully presented. It takes a good writer/artist team, like Kurtis and Scott, to pull off seamless fight sequences – both in the dialog and in the art. Scott's panel flow and layouts are very dynamic, thereby giving the battles great timing and Kurtis' dialog injects the added urgency and tension to the action.
I'm glad I picked up this series; It's become one of my favorite new series of 2011. Along with Green Wake (also by Kurtis Wiebe) and Who Is Jake Ellis?, Image Comics is currently publishing some great work.
After five issues, The Intrepids not only tells a great story but it continues to surprise and engage the reader. And that's the mark of a good book. The only problem I see with this book is that it only comes out once a month. More creators need to have those types of problems!
– The Comic Book Critic
Comic Book Critic Rating: 9.0