Marvel's Mightiest Women Assemble! Your New Look at
A-FORCE #1!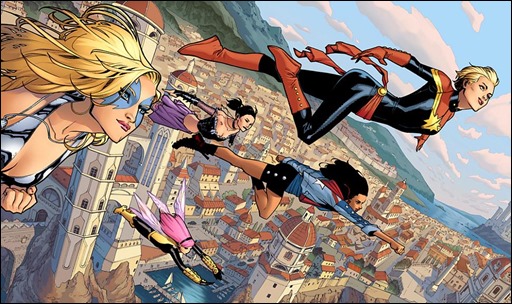 A New Team of Avengers Assembles During SECRET WARS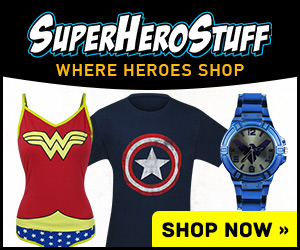 Here's a short, unlettered preview of A-Force #1, a Secret Wars series by writers G. Willow Wilson & Marguerite Bennett and artist Jorge Molina, on sale May 20th, 2015 from Marvel Comics.
Press Release
An all-new era begins this May as Marvel's Mightiest Mavens assemble for an explosive new series launching during Secret Wars! Today, Marvel is pleased to present your new look inside the blockbuster A-FORCE #1 – from the creative team of G. Willow Wilson (Ms. Marvel), Marguerite Bennett (Angela: Asgard's Assassin, James Patterson's Max Ride: First Flight) and Jorge Molina (X-Men)!
As the Secret Wars begin, the Avengers as you know them are no more – and a new team will lead the way! In a secluded corner of Battleworld lies Arcadia, an island nation fiercely protected by a team of Avengers the likes of which has never been seen before!
So who are the Marvel powerhouses taking center stage? "She-Hulk, Dazzler, Medusa, Nico Minoru and other fan favorites, will take charge," says series co-writer G. Willow Wilson. "We've purposefully assembled a team composed of different characters from disparate parts of the Marvel U, with very different power sets, identities and ideologies."
And there came a day unlike any other, when Earth's Mightiest Heroines found themselves united against a common threat. Fighting to protect the small sliver of their world that's left, they stand tall, shoulder-to-shoulder, ready to take on the horde. Ushering in a new day with a rallying cry heard across Battleworld – A-FORCE ASSEMBLE!
Heed the call, and don't miss the start of a comic series that will have the world talking when A-FORCE #1 hits comic shops and digital devices this May!
A-FORCE #1 (MAR150665)
Written by G. WILLOW WILSON & MARGUERITE BENNETT
Art by JORGE MOLINA
Inhumans 50th Anniversary Variant by ADAM HUGES (MAR150666)
Variant Covers by RUSSELL DAUTERMAN (MAR150667) STEPHANIE HANS (MAR150668) JORGE MOLINA (MAR150669) and SKOTTIE YOUNG (MAR150670)
Blank Variant Also Available (MAR150671)
FOC – 04/27/15, On-Sale – 05/20/15