Miracleman Book One: A Dream of Flying
On-Sale Now!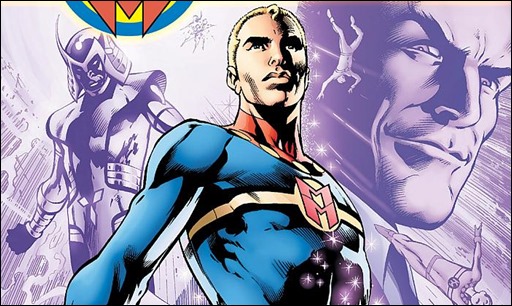 "A must-read for scholars of the genre, and of the comic book medium as a whole." – TIME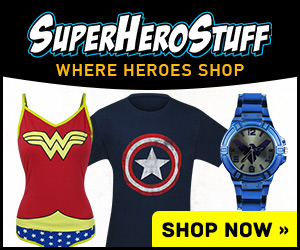 Marvel Comics has released a video trailer for the Miracleman Book One: A Dream of Flying, collecting long out of print issues originally published in Warrior Magazine.
Press Release
It was the series that changed comics forever. With the utterance of one word, Michael Moran transformed from the ordinary into the extraordinary – and Miracleman was born! Long out of print, Marvel Comics is pleased to announce that today, these ground-breaking stories are available in collected format for the first time in nearly 20 years!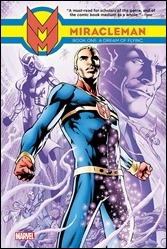 Arriving today digitally and wherever books are sold, Miracleman Book One: A Dream of Flying collects the first four trailblazing issues of this legendary run along with supplemental material for casual and hardcore fans alike. Originally published in Warrior Magazine and now defunct publisher Eclipse Comics, now is your chance to finally experience these incredible comics some have called "the most iconic and popular superhero that comic book fans have never read." (IGN.com)
Exceeding the investment of previous marketing campaigns, Marvel is set to bring these pioneering stories to new and current audiences thanks to new strategies. In addition to vast social media outreach and new levels of targeted web and video advertising – Miracleman Book One: A Dream of Flying has also been featured in movie theaters across the country over the high-traffic Memorial Day weekend as well as in print in the New York Times. Both placements are estimated to have been seen by upwards of 4 million people.
Fans lucky enough to have read Miracleman when it was originally produced have often referred to these stories as a great, lost gem of comic book history. Marvel is proud to finally bring these incredible comics back to an audience that has clamored for them.
The wait is finally over. Don't miss your chance to read the series that redefined a genre as Miracleman returns in collected format today with additional content, new art, interviews with creators and more. Miracleman Book One: A Dream of Flying can be found today wherever comics and books are sold or digitally via the Marvel Comics App and Marvel Digital Comics Store.
Miracleman Book One: A Dream of Flying
KIMOTA!
With one magic word, a long-forgotten legend lives again! Freelance reporter Michael Moran always knew he was meant for something more-now, an unexpected series of events leads him to reclaim his destiny as Miracleman!
The groundbreaking graphic novel that heralded a literary revolution begins here in A DREAM OF FLYING.
After nearly two decades away, Miracleman uncovers his origins and their connection to the British military's "Project Zarathustra" – while his alter ego, Michael Moran, must reconcile his life as the lesser half of a god.
Available digitally and in print wherever comics and books are sold.
– The Comic Book Critic