Introducing The Marvel Digital Comics Shop – Your One Stop For Marvel Digital Comics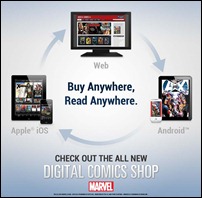 Press release
The Marvel ReEvolution grows even bigger this month as Marvel is proud to unveil the Marvel Digital Comics Shop, the newest place to find and read Marvel digital comics. This convenient online destination gives fans the chance to purchase all their favorite Marvel comics in one location and have it sync to the Marvel Comics app for Apple® iOS and AndroidTM devices. Not only can you read your comics anytime and anywhere – but now you can read them on your desktop or laptop! With all Marvel Universe and Ultimate Comics Universe titles available the same day they hit comic shops, there's no better time to jump into comics!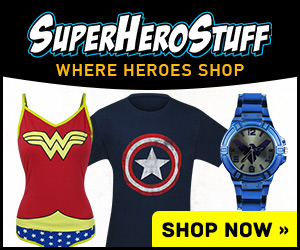 Then, come June – all Marvel super hero comics priced at $3.99 at your local comic shop will include codes for free digital copies of those same issues on the Marvel Comics app for Apple iOS and Android devices, the Marvel Digital Comics Shop and the Comics by comiXology app and web store all at no extra cost! That's right, the most-talked-about comics in the industry—including Avengers, Captain America, Invincible Iron Man, Mighty Thor, Amazing Spider-Man. Wolverine & The X-Men and more—will come packed with a code to ensure fans have the most critically acclaimed stories with them anytime, anywhere.
Between the Marvel Comics app and the Marvel Digital Comics Shop, there has never been an easier way to follow the adventures of Earth's Mightiest Heroes, the X-Men, and all of your favorite Marvel heroes! So what are you waiting for True Believer? Head on over and get in on the action today!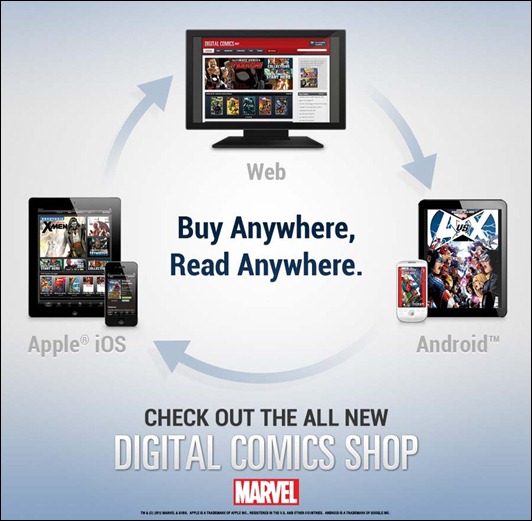 – The Comic Book Critic