X-O Manowar #1 by Robert Venditti and Cary Nord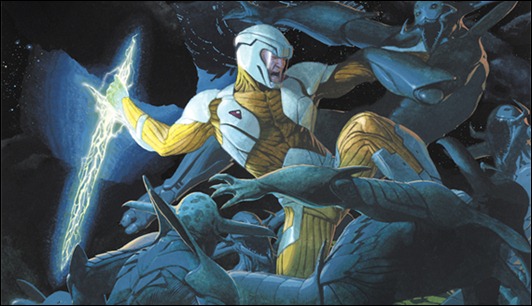 Valiant Entertainment today officially announced the first title release of their relaunch – X-O Manowar!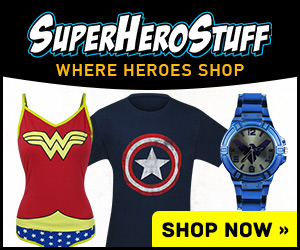 X-O Manowar #1 will be written by New York Times best-selling author Robert Venditti (The Surrogates) and illustrated by Eisner Award winner Cary Nord (Conan), featuring a cover by Esad Ribic. Along with the announcement, Valiant released the cover of X-O Manowar #1 by Esad Ribic along with preliminary interior artwork by Cary Nord – which you can find below.
Comic Book Resources has a lengthy interview with both Robert Venditti and Valiant editor Warren Simons.
Robert, before you came on to write X-O Manowar, were you familiar with the book or character?

Venditti: No, actually. I didn't start reading comics until around the year 2000. For whatever reason, I don't know why, I didn't read comics of any kind growing up. I wasn't really aware of any of those kinds of things, which speaks more to my ignorance of comics than anything else because X-O was a huge character and still is very popular and very beloved with a lot of fans. So, the fact that I wasn't already familiar with him is on me more than anything else. I don't know a lot about Marvel and DC either, because I didn't grow up with those kinds of things. When Warren first contacted me, I was interested in the idea of writing for Valiant. I went and started looking at some of the characters, reading about them online. Aric was instantly one that jumped out at me as easily compelling and something that would be great to write. There would be so many things you could do with it. I'm familiar with him now, I've done my homework and all those kinds of things. I did a lot of that kind of stuff before I even started writing, even got to the pitch phase. I have a good understanding of who the character is at this point.

While this is a reboot of the original franchise and has no ties to the previous series' continuity, is this a total overhaul of the franchise as a whole?

Simons: We're definitely grounded in the original series as far as being influenced by the core concepts that drove them. Aric is a Visigoth warrior from around 400 AD, a character who grew up in the oppressive time of the Roman Empire. He engages in vicious battles with the Romans — it's a constant quest for survival. As we'll see, he discovers, basically, an alien fortress. He's captured and he's taken aboard a slave ship. Ultimately, this is the original story and is based in the same core concept that made him such a great character. What we'll see is, eventually, he's able to get a hold of the X-O Manowar armor, the most powerful armor in the entire universe. He returns to Earth and discovers that even though he's only been gone on the slave ship for a couple of years, due to time displacement, 1700 years have passed. As a result of that, he's now a man out of time. He's the most ancient man on Earth and he has the most technologically advanced weapon.
Read the full interview here.
Here is the full media release by Valiant Entertainment.
Media Release — On May 2nd, New York Times best-selling author Robert Venditti (The Surrogates, The Homeland Directive) and Eisner Award-winning artist Cary Nord (Conan) launch X-O Manowar #1, the debut issue of the all-new Valiant Universe!

"Cary is knocking it out of the park with this book. His pages look incredible and Rob's pitch is one of the best I've ever read," said Valiant Executive Editor Warren Simons. "These guys are putting together a remarkable #1 issue."

Born into battle and raised under the oppressive thumb of the Roman Empire, Aric of Dacia is a beloved figure among his men and a leader of the Visigoth people. But when he's taken prisoner after a brutal encounter with an alien strike force, he must capture the X-O Manowar armor – the most powerful weapon in the universe – if he's to save his family and return to his people. But when he arrives he finds 1,600 years have passed and the most primitive man on Earth – a man out of time – now wields a weapon capable of incalculable destruction.

"Some may consider him a barbarian, but Aric is a seasoned battlefield tactician and a warrior capable of taking down some of the world's greatest adversaries with only his wits and a broadsword," said Venditti. "So what happens when you hand this so-called primitive the universe's most powerful weapon and drop him in the modern day? It's a recipe for one of the most compelling action stories you'll see on the stands in 2012."

"I'm having a blast working on X-O Manowar," added Nord. "I've tackled warring barbarian hordes, alien armadas and destroyed pretty much everything in between. This is going to be an epic in every sense of the word."

During X-O Manowar's initial run, the smash hit series sold over 8 million copies and featured work from a distinguished roster of comics luminaries including current Marvel Chief Creative Officer Joe Quesada, former Marvel Editor-in-Chief Jim Shooter, and comics legends Barry Windsor-Smith and Bob Layton.

"Powerful storytelling has been our first priority since day one and, together, Rob and Cary are proving to be a truly visceral combination," said Valiant Chief Creative Officer Dinesh Shamdasani. "Together, their work on X-O Manowar is defining the size, scope and intensity of the Valiant Universe."

"X-O Manowar was one of the many reasons that Valiant became a legend in its time," added Valiant CEO Jason Kothari. "This is an all-time classic character and we have big plans not just for him, but the rest of the Valiant Universe."

X-O MANOWAR #1
Written by ROBERT VENDITTI
Art by CARY NORD
Covers by ESAD RIBIC & CARY NORD
ON SALE MAY 2nd!
– The Comic Book Critic