Image Comics Variants and Exclusives at Comic-Con International
Press release
In addition to a full schedule of panels, Image Comics is also celebrating creativity at Comic-Con International in San Diego with exclusive covers and editions of popular and debut titles. Creators will be signing exclusives, which are available in limited quantities, so be sure to stop by the Image Comics, Skybound and Top Cow booths to make sure you get your copies!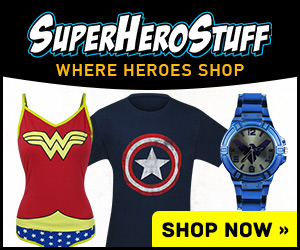 Comic-Con International takes place on July 12-15 in the San Diego Convention Center. The Image Comics booth (#2729) will be the destination for Skybound, Shadowline, and Image central titles, while the Top Cow booth (#2629) will have all the latest in the WITCHBLADE- and THE DARKNESS-helmed universe.
Here is a list of the variants and exclusives, and full descriptions follow.
Image Comics & Skybound (#2729)
CHEW: SECRET AGENT POYO #1 Guillory Comic-Con Exclusive Variant Cover
SKULLKICKERS #15 Kitten Variant Cover
THE WALKING DEAD Michonne Bloody Poncho Variant Action Figure
THE WALKING DEAD #100 Vannen Watch
THE WALKING DEAD Hardcover Compendium
Top Cow (#2629)
ARTIFACTS #19 Broussard Comic-Con Exclusive Variant Cover
THE DARKNESS #105 Portacio Comic-Con Exclusive Variant Cover
THINK TANK #1 Bagus Comic-Con Exclusive Variant Cover
SUNSET Limited Edition Comic-Con Exclusive Hardcover
IMAGE COMICS

CHEW: SECRET AGENT POYO #1 Guillory Comic-Con Exclusive Variant Cover
A one-shot spinning off CHEW's most popular supporting character, and comics' most beloved homicidal cybernetic kung-fu rooster. Concentrated mayhem. Feathers, rage and hate! Plus: an all-star pin-up gallery from some of the most staggeringly talented artists in the industry!
$10.00
Limited to 700 copies

SKULLKICKERS #15 Kitten Variant Cover
Created as a gag cover to appear in previews so as not to spoil earlier issues, this kitten cover by Edwin Huang and Misty Coates is now available to purchase thanks to popular demand! Don't let the kitten fool you, though. Inside is heinous violence, trouble-making and all the skullkicking you can handle.
$3.50
Limited to 500 copies
SKYBOUND

THE WALKING DEAD Michonne Bloody Poncho Variant Action Figure
Limited edition bloody Michonne action figure featuring an exclusive poncho based on her first appearance.
SRP: $25.00
Limited to 3000 units, Two per person
THE WALKING DEAD #100 Vannen Watch
In honor of The Walking Dead's 100th issue, Skybound and Vannen watches bring you a limited edition timepiece. The

watch features art from Charlie Adlard's issue #100 cover. Each watch is signed by Robert Kirkman.
$85.00
Limited to 500 units, One per person

THE WALKING DEAD Hardcover Compendium
Limited edition, foil stamped hardcover version of THE WALKING DEAD Compendium Vol. 1. Collects issues 1-48 of THE WALKING DEAD
$100.00
Limited to 900 copies, One per person
TOP COW
Artifacts #19 Broussard Comic-Con Exclusive Variant Cover
Kicking off a brand new story in the Top Cow's ongoing REBIRTH

initiative, RON MARZ and STJEPAN SEJIC introduce a brand new Artifact bearer — Dr. Rachel Harrison, bearer of the Heartstone — in this special three part story. Available only at Comic-Con, this exclusive cover by MICHAEL BROUSSARD features Witchblade, Angelus and Aphrodite!
$10
Limited to 500 copies
The Darkness #105 Portacio Comic-Con Exclusive Variant Cover


Concluding DAVID HINE and JEREMY HAUN's explosive opening story arc, this issue sees Jackie Estacado, bearer of the Darkness, confronted with disintegration of his perfect world. Available only at Comic-Con, this exclusive cover by WHILCE PORTACIO features The Darkness and his Darklings!
$10
Limited to 500 copies
Think Tank #1 Bagus Variant Cover


A Comic-Con Debut Issue! The action-packed science series from MATT HAWKINS and RAHSAN EKEDAL tells the tale of a brilliant scientist trapped in a military think tank and his attempt to escape. Available only at Comic-Con, this exclusive cover by BAGUS HUTOMO introduces the world to slacker genius scientist — Dr. David Loren!
$10
Limited to 500 copies
Top Cow Comic-Con Exclusive Variant Set
Get all three of Top Cow's exclusive variant covers for only $25, a $5 savings!
SRP: $25

SUNSET Limited Edition Comic-Con Exclusive Hardcover
A Comic-Con Debut Original Graphic Novel! Sometimes all you can do is go out with guns blazing… CHRISTOS GAGE and JORGE LUCAS debut their hard-hitting old man noir original graphic novel — SUNSET. On the surface, Nick Bellamy looks like any other veteran retiree left behind by a modern world. In reality, Nick is a former enforcer, who stole a fortune and years of freedom from his former mob boss. This limited edition variant will feature a foil stamped logo and an exclusive book plate.
$30
Limited to 250 copies
– The Comic Book Critic