ARCHER & ARMSTRONG #25 –
A Giant-Sized Anniversary Hullabaloo!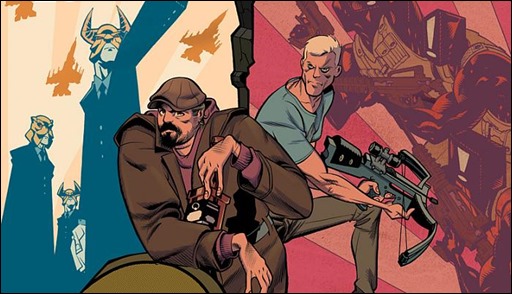 Here's your first look at Archer & Armstrong #25 – A giant-sized anniversary issue – on sale October 29th, 2014 from Valiant Comics.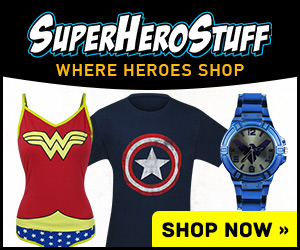 Press Release
This October, somebody call the fire marshall because ARCHER & ARMSTRONG #25's epic rager is about to get out of control!
Valiant is proud to announce that New York Times best-selling writer John Layman (Chew, Detective Comics) will join red-hot artists Joe Eisma (Morning Glories), Khari Evans (Harbinger), Andy Kuhn (Teenage Mutant Ninja Turtles) and Ramon Villalobos (Original Sins) as the latest colossal talents stepping on board ARCHER & ARMSTRONG #25 – October's oversized, 48-page anniversary celebration of Valiant's conspiracy-smashing, globe-trotting adventure duo!
"Archer & Armstrong is absolutely fantastic, and I'm stoked to be part of this landmark issue," said writer John Layman. "I really love the entire vibe of the book – a buddy action comedy, full of conspiracy and history, and then injected with just pure fantastic gonzo madness. I love books where you can tell the creator is having a good time, because it's infectious. I'm recommending Archer & Armstrong to anybody who likes fun comics."
Layman, Evans, Kuhn, and Villalobos are just the latest additions to an already star-studded roster of comics talents set to contribute to Valiant's next great oversized anniversary milestone, and will join previously solicited creators Fred Van Lente (Amazing Spider-Man), Clayton Henry (Harbinger Wars), Ray Fawkes (Batman Eternal), Justin Jordan (Spread), Rafer Roberts (Carpool Buddies of Doom), Joey Esposito (Captain Ultimate), Donny Cates (Buzzkill), Eliot Rahal (Dark Horse Presents), Juan Doe (Legion of Monsters), Barry Kitson (Legion of Super-Heroes), and more for ARCHER & ARMSTRONG #25's jam-packed celebration!
Fresh off of three nominations at this year's Harvey Awards – including nods for Best Continuing or Limited Series, Most Promising New Talent, and the Special Award for Humor in Comics – Valiant's history mystery sensation celebrates 25 titanic issues in style this October with a power-packed line-up tackling tales of Archer & Armstrong past, present, and future:
"Back to the Beginning" by Fred Van Lente & Clayton Henry
"Immortal Combat" by John Layman & Ramon Villalobos
A Prelude to November's Archer & Armstrong: The One Percent #1 by Ray Fawkes & Andy Kuhn
"Armstrong in…Forever and a Day" by Justin Jordan & Rafer Roberts
"Happy Returns" by Joey Esposito & Joe Eisma
"Armstrong's First Drink" by Donny Cates, Eliot Rahal & Khari Evans
The Official Archer & Armstrong Drinking Game by Donny Cates, Eliot Rahal & Juan Doe
And much, much more!
The immortal philanderer currently called Armstrong and his headstrong teenage partner are throwing a party on October 29th and YOU'RE INVITED, only in ARCHER & ARMSTRONG #25 – featuring covers by all-star Archer & Armstrong legends Clayton Henry, Shawn Crystal, Pere Perez, Jim Calafiore, and Michael Walsh!
(Please pre-order with your local comics retailer to RSVP, bro.)
ARCHER & ARMSTRONG #25 (ANNIVERSARY HULLABALOO!)
Written by FRED VAN LENTE, JOHN LAYMAN, RAY FAWKES, JOEY ESPOSITO, JUSTIN JORDAN, DONNY CATES & ELIOT RAHAL, JUSTIN JORDAN, and MORE!
Art by CLAYTON HENRY, RAMON VILLALOBOS, ANDY KUHN, JOE EISMA, KHARI EVANS, JUAN DOE, RAFER ROBERTS, BARRY KITSON and MORE!
Cover A by CLAYTON HENRY (AUG141720)
Cover B by SHAWN CRYSTAL (AUG141721)
Variant Cover by PERE PEREZ (AUG141722)
Throwback Variant by JIM CALAFIORE (AUG141723)
Variant Cover by MICHAEL WALSH (AUG141724)
$4.99 | T+ | 48 pgs. | ON SALE 10/29/14 (FOC – 10/6/14)
– The Comic Book Critic