Happy Birthday Wade! DEADPOOL #7 Celebrates 25 Years of the Merc With a Mouth!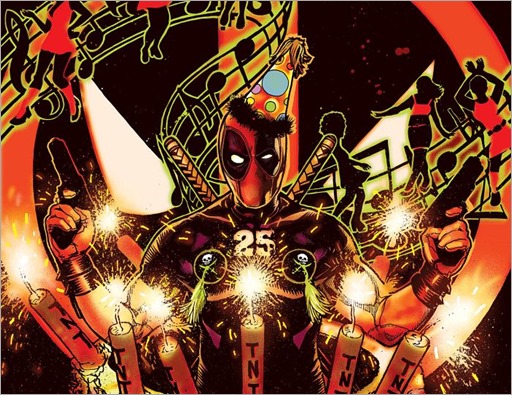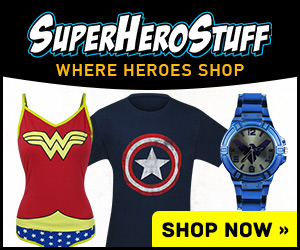 Here's your first look at Deadpool #7, an over-sized 25th birthday celebration for the Merc With a Mouth, on sale February 10th, 2016 from Marvel Comics.
Press Release
And lo' there came a day unlike any other, in February of 1991, when merc and mouth united for a common goal. And on that day, Deadpool was born!
Now, a mere quarter of a century later, we're celebrating Deadpool's 25th Anniversary this February in the colossal sized DEADPOOL #7! That's right – that same regenerating degenerate who tore through the New Mutants and into your very hearts is turning 25, and he wants to party with you! Featuring a massive 80 story pages and an all-star creator lineup, Wade's silver anniversary is sure to be a night to remember.
First, Gerry Duggan and Scott Koblish bring you a full length Merc With a Mouth adventure. Then, Deadpool creators past and present regale you with tales of Wade's newest allies – the Mercs for Money! Get ready for more Terror, Foolkiller, Slapstick, Massacre, Stingray and Solo and shine a spotlight on Deadpool's newest employees.
So put on your party hats and cut the cake and don't miss DEADPOOL #7 on sale this February!
DEADPOOL #7 (DEC150853)
Written  by GERRY DUGGAN, CULLEN BUNN, AMY CHU, BEN ACKER, BEN BLACKER, MIKE HAWTHORNE, and TIM SEELEY
Art by SCOTT KOBLISH, TYLER CROOK, EMILIO LAISO, DANILO BEYRUTH, MIKE HAWTHORNE, MIKE NORTON and PHIL NOTO
Cover by TONY MOORE
25th Anniversary Variant by TONY HARRIS (NOV158423)
Action Figure Variant by JOHN TYLER CHRISTOPHER (DEC150854)
Young Variant by SKOTTIE YOUNG (DEC150855)
Secret Comic Variant by SCOTT KOBLISH (DEC150856)
Hip-Hop Variant by RAHZZAH (DEC150857)
FOC – 1/18/16, On-Sale – 2/10/16