VALIANT'S SUPERHERO X-O MANOWAR INSPIRES USA LUGE ATHLETES
First-of-its-kind Partnership Results in Superhero Race Suits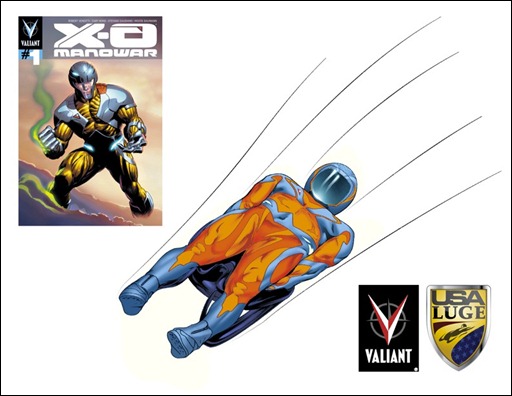 Press release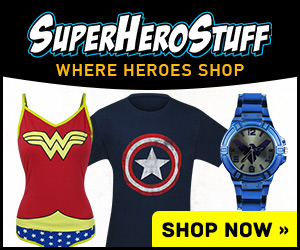 Valiant Entertainment, one of the leading comic character-based entertainment companies, will design the competition and practice race suits for the USA Luge team through 2014. The USA Luge National and Junior National teams will wear Valiant-designed race suits for the 2012-13 and 2013-14 World Cup and World Championship seasons. This groundbreaking partnership marks the first time ever that an entertainment company has outfitted a national sports organization with uniquely designed uniforms inspired by a comic book character. Valiant and USA Luge will also work together to create the look of the team's race gear when they compete at Sochi, Russia during the 2014 Olympic Winter Games. The partnership also includes other marketing and cross-promotional opportunities.
Each suit created by Valiant and its illustrators will be designed to resemble the look of the character X-O Manowar, one of the comic book industry's most popular characters with over 8 million comic books sold and a best-selling 2012 comic book relaunch. A key character of the Valiant Universe, X-O Manowar is a time-displaced warrior bonded to a suit of extraterrestrial armor, the most technologically advanced weapon in existence, and is also notable for a best-selling, multiplatform video game crossover with Marvel's Iron Man.
USA Luge spends a considerable amount of time researching the fastest possible fabrics for their race suits. Each summer, tests are conducted at the San Diego Low Speed Wind Tunnel to determine, among other things, the most aerodynamically efficient race suit for competition use. The suits are fitted and tailored to each athlete, as even the smallest wrinkle can result in lost speed, especially in a sport timed to the 1/1000th of a second.
"This partnership between Valiant and USA Luge is an incredibly exciting and unique opportunity. As entertainment marketing becomes more challenging and the marketplace more global, we see this as a fantastic way to marry many elements. Olympic sports are a worldwide pastime enjoyed by millions, while Valiant comics and their characters seek to embody the same superhuman traits so often found in these special athletes. And just as X-O Manowar is enhanced by his armor, it is our hope that the athletes of USA Luge are similarly emboldened by their X-O Manowar designed race suits. Luge is not just any sport — it is a thrilling endeavor of high speed, challenge and edge, which makes its athletes a perfect fit for our Valiant superheroes," said Jason Kothari, CEO of Valiant Entertainment.
"We are honored to be working with the world-class team at Valiant. This is a tremendous opportunity for USA Luge to reach out to a new group of fans and grow with a company on the fast track, just like our athletes. Our organization has always taken pride in working with our family of sponsors to create unique marketing opportunities surrounding our sport and the Valiant partnership is no exception. We look forward to the build-up to 2014 with Valiant in our corner," said Gordy Sheer, USA Luge Marketing Director and 1998 Olympic silver medalist.
USA Luge National and Junior National Team athletes will unveil their new X-O Manowar inspired speedsuits at the World Cup at the first races on November 24th and 25th in Innsbruck, Austria.
Valiant Entertainment is one of the leading comic character-based entertainment companies in the world that owns and controls a library of 1,500 characters. Since their creation in 1989, Valiant characters have sold 80 million comic books, been the basis of a number of video game franchises and a slate of major motion pictures are in development. In 2012, Valiant relaunched print and digital comic books based on a number of its most popular properties, such as X-O Manowar, Harbinger, Bloodshot, Archer & Armstrong. These new issues garnered rave reviews and are consistently the best-selling independent comic book titles in the industry. In 2013, the Company has plans to become a financing partner alongside film studios for major motion pictures based on its characters.
Since 1985, USA Luge team members have won over 560 World Cup and World Championship medals and 4 Olympic medals. Luge is one of the most competitive and thrilling sports in the Olympics with racers reaching speeds in excess of 90 MPH.
– The Comic Book Critic