Grimm Fairy Tales Presents:
Robyn Hood #2 (of 5) Review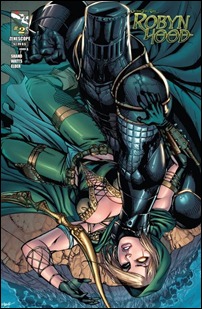 Writer: Pat Shand
Pencils: Larry Watts
Colorist: Andrew Elder
Letterer: Jim Campbell
Cover Art: Ale Garza & JJ Kirby (Cover A)
Editor: Hannah Gorfinkel
Publisher: Zenescope
Cover Date: Oct 2012
Cover Price: $2.99
Title: Grimm Fairy Tales Presents: Robyn Hood
We're back with the second installment of Robyn Hood by Zenescope and writer Pat Shand has once again delivered. I found this book to be a wonderful compliment to the first issue where, not only did we get some action, the setup was done really well. Issue #2 continues to delve into Robyn's past, without distracting from what's happening in the 'here and now'.