Wolverine Launches New Weekly
INFINITE COMICS Series!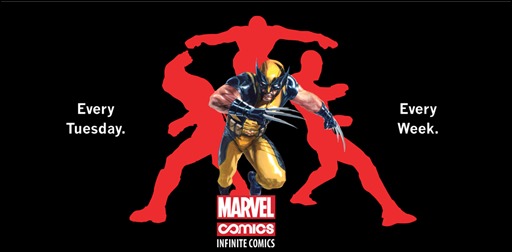 Four Premiere 13-Chapter Series Featuring
Leading Marvel Superheroes and Creators
Press Release
Get ready for a weekly comics experience featuring the most popular super heroes by the most talented creators, in an innovative format that will leave you demanding more! Announced yesterday at the Marvel House of Ideas panel during SXSW, beginning Tuesday July 9th Marvel will release a new Infinite Comic every week for an entire year spotlighting four of Marvel's biggest characters in a 13-chapter series. Designed specifically for mobile devices and fully embracing the technological opportunities, Infinite Comics are the first to treat these devices as a new canvas, creating comics designed for a new generation of users. Not only will these new Infinite Comics will feature some of the most popular heroes in comics today but they'll also boast some of the best creative talent in the industry!
To kick things off, fans are in for the ride of their life as superstar creators Jason Aaron, Jason Latour and Paco Diaz take Wolverine back to the Far East in Wolverine: Japan's Most Wanted. The Silver Samurai has his sights set on Wolverine and will do anything he can to get rid of him, including unleashing a horde of deadly ninjas, and the mutant mass murderer – Sabretooth!