Legend Of The Shadow Clan #4 Preview!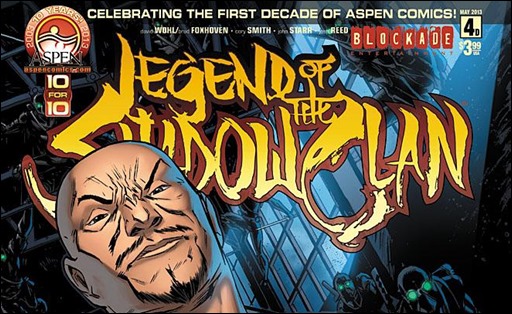 Here's your first look at five pages and the interconnecting covers of Legend Of The Shadow Clan #4 by David Wohl, Cory Smith, & Jon Starr from Aspen Comics – on sale May 8th, 2013.
LEGEND OF THE SHADOW CLAN #4
David Wohl ­ Story / Cory Smith ­ Art / Jon Starr Colors
What is the mystery of the LEGEND OF THE SHADOW CLAN?
Now that Morgan Himura and her family have learned that they're descendants of a long line of ninja warriors called the Shadow Clan, one would think that their lives would vastly improve. Especially since the Himura siblings seem to be gaining a better understanding of their unique abilities and talents–especially Morgan, who has always excelled at anything she's put her mind to. But, there's a reason why the Shadow Clan had been in hiding for centuries–and now that the Himuras are out in the open, their ancient enemy, the Ghost Clan, has wasted no time in tracking them down. Ready or not, today is the day the Ghost Clan takes the fight to the Shadow Clan!