You've Just Rented an Apartment to QUANTUM AND WOODY #5…
Kiss That Baby Goodbye!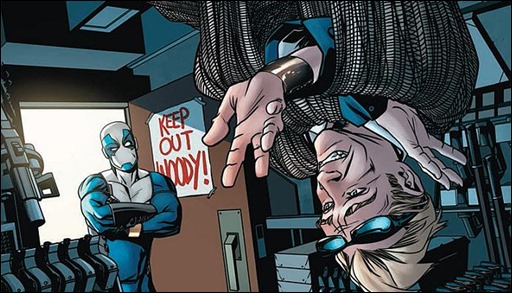 Here's a preview of Quantum and Woody #5 by writer James Asmus and artist Ming Doyle, courtesy of Valiant Comics – on sale November 5th, 2013.
Press Release
Valiant is proud to present an advance preview of Quantum and Woody #5 – the FIRST ISSUE of "In Security," an all-new story arc from award-winning writer James Asmus (Thief of Thieves, Gambit) and fan favorite artist Ming Doyle (Mara)! Start reading here on with an all-new arc, an all-new jumping-on point, and all-new…problems?
Imbued with unpredictable new superpowers in the wake of an energy experiment gone wrong, Eric and Woody Henderson have just had their lives turned upside down – and they need to "klang" together every 24 hours or else their atoms will disperse. So what do you do when the most annoying person in your life is also the only thing keeping you alive? You move in with him! And his goat. And his barely legal clone girlfriend. Besides, every team of heroes needs a secret headquarters…and this one has a slightly used hot tub. Plus: Quantum gets a job – and meets his first true blue super-villain!