The Mad Titan Returns for
THANOS ANNUAL #1!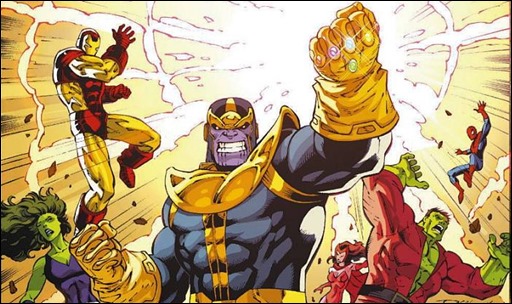 Jim Starlin and Ron Lim reunite in May for another epic Thanos story in Thanos Annual #1 from Marvel Comics – on sale May 28th, 2014. Here is a short preview featuring a variant cover drawn by the Mad Titan's creator himself – Jim Starlin.
Press Release
This May, Jim Starlin and Ron Lim, the legendary team that brought you The Infinity Gauntlet return for an epic untold tale of the Mad Titan like you've never seen him before. Today, Marvel is proud to present your very first look at THANOS ANNUAL #1! A devastating defeat in Thanos' past has set in motion cataclysmic events that cannot be undone. Facing his ultimate demise, Thanos welcomes the afterlife, hoping to finally be united with his one true love, Death. But he was wrong. There is no love waiting for him in the beyond. Only pain and malice at the hands of Mephisto!