Action Lab's Skyward Becomes Ongoing Series, Features Alternate covers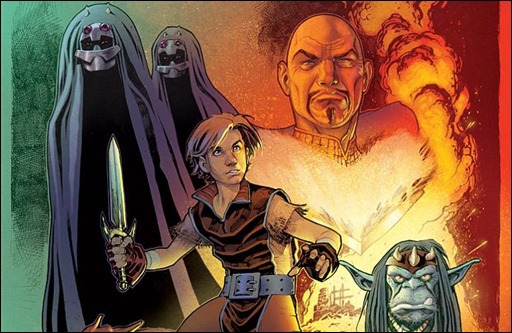 Action Lab Entertainment has announced that Skyward, originally a mini-series by Jeremy Dale, will be their first ongoing sequentially numbered series.
Starting with Skyward #3, there will be alternate covers featuring guest artists such as Stephane Roux, Mike Norton, Khary Randolph, Randy Green, Phil Noto, and Chris Giarrusso. Other cover artists lined up for future issues include Brandon Peterson, Tim Seely, Todd Nauck, Cully Hamner, & Gene Ha.
Press Release
Action Lab Entertainment is happy to announce that Jeremy Dale's Skyward will become the first true ongoing title for the independent publisher.  Scheduled to debut at this year's San Diego Comic Con, Skyward was originally envisioned as a six-issue mini-series, but it was decided, given the grand story that Dale wants to tell with the book, that an ongoing, sequentially-numbered title would be the best option.
In addition, each issue of Skyward, beginning with issue #3, will feature an alternate cover produced by some of the more popular and well-known artists in the industry.  Confirmed guest cover artists include Stephane Roux (Witchblade, Zatanna) for issue 3, Mike Norton (The Answer!, Battlepug)  for issue 4, Khary Randolph (Fanboys vs. Zombies) for issue 5, Randy Green (Teen Titans) for issue 6, Phil Noto (Infinite Horizon) for issue 7, and Chris Giarrusso (G-man, Mini Marvels) for Issue 8.