Discovery Channel's  "Survivorman"
Adventures Travel To The Pages Of
Comics & Graphic Novels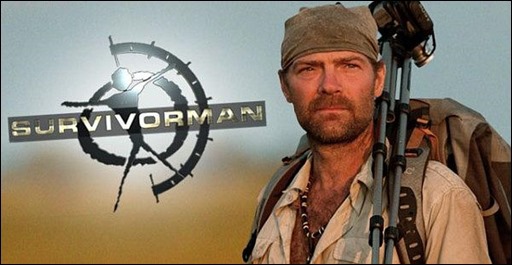 Press Release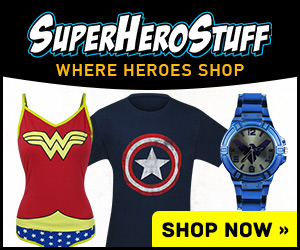 Les Stroud must rely solely on his extensive survival skills to survive up to seven days alone in remote locations. Serving as a one-man camera crew, Stroud ventures to the far reaches of the world—from the desolate, frozen tundra of Arctic Canada to the barren, desert wastelands of the Australian Outback. This sort of isolation can be extremely trying and Stroud must remain calm at all times depend on his physical and mental strength. He is a real life superhero, the perfect subject for Bluewater Production's newest adventure comic.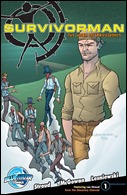 "So much of being Survivorman has turned out to be surreal and so very exciting for my life. The most exhilarating and fun result yet is being turned into a comic book super hero!!!  I absolutely love it!" said Les Stroud
This fall, "Survivorman: The Horn of Providence" follows Les "Survivorman" Stroud as he is in hot pursuit of a stolen artifact from America's early history. Les battles the odds: getting lost at sea, roughing the English countryside, and showing an endless supply of rugged determination in his quest.
The comic version of Survivorman was brought to life by a duo of talented creators; Dusty McGowen wrote the story while penciler Brian Lucey and Matt Lesniewski provided the artwork.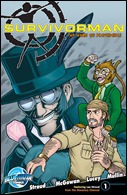 "I still can't believe I had such a great opportunity to work on this "Survivorman" project," said McGowen. "Darren G. Davis, President of Bluewater has assembled a passionate and creative team, and we look forward to ushering the "Survivorman" into comic book form. I love the show and hope that Les' fans will find plenty to like as this story continues."
"Working on Survivorman has been very interesting," Lucey commented. "This is my first comic book job and I have been learning a lot in terms of improving my skills as an artist. It has been hard work but I enjoy it!"
Producing "Survivorman: The Horn of Providence" gave Bluewater Productions the unique opportunity to blend two genres of comic books together. Not only is the new release an exciting action adventure, but part biographical, based off of the real life Stroud and his exploits in the wild.