Chelsea Johnson of CAJCosplay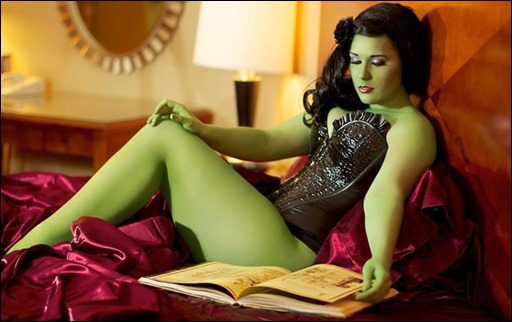 There are many talented models and performers who bring their love & enthusiasm to dressing up as their favorite characters. Comic Book Critic will regularly showcase a performer who embodies this spirit of cosplaying.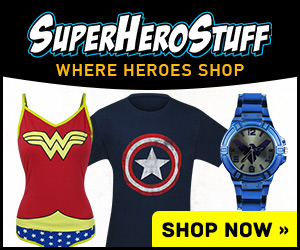 Whether it's creating the costume from scratch, altering the appearance of an existing one, or just getting into character, these performers spend a lot of time and effort on their craft. As much as we all enjoy seeing our favorite fictional characters represented in real life, let's not forget the behind-the-scenes work that goes into that portrayal.
One thing is for certain though, their love of cosplaying shines through in their work.
The Comic Book Critic Featured Cosplayer Interview this week is:
Chelsea Johnson from Houston, TX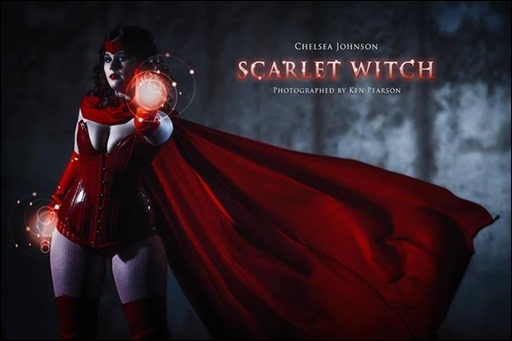 This week we feature the beautiful Chelsea Johnson aka CAJCosplay as our cosplayer interview. Not only does she possess natural beauty, Chelsea also creates some well-crafted costumes and executes them flawlessly.
Chelsea also has experience behind the camera as a photographer, as well as in front of it as both a cosplayer and a burlesque performer. We were lucky to get the opportunity to ask her some questions about her work:
How long have you been cosplaying and what was your first costume?
I've been cosplaying for about three years now, so I'm still relatively new to the game but I've always been the kind of person who took my Halloween spirit to the extreme. I actually consider what was originally intended to be a Halloween costume to be my first actual cosplay. I got absurdly obsessed with the details when I chose to dress as Amber Sweet from Repo! The Genetic Opera in October of 2010, but I didn't participate in my first convention and cosplay until May 2011. My first planned cosplay was the Winter Soldier design for Black Widow at that same convention.
What made you decide cosplaying was something you wanted to pursue?
It's hard to say what the specific deciding factor was. I've followed several well known cosplayers over the years, even before I chose to try doing it myself. Additionally, I've always been a creatively driven person so costuming just sort of fit in with all my other hobbies of photography, illustration, dancing, performing, and crafting. I'm also a huge Broadway junkie and cosplay helped me to realize an untapped passion for theatre costuming. It's helped to give me a very specific career goal to strive for in the field of costume work as a professional. I'm also incredibly neurotic when it comes to details, which has proven pretty handy in this particular hobby.
Did you model before you began to cosplay or did that come afterwards?
Not professionally. I used to be a photography major so I was occasionally asked by classmates to model for assignments but beyond that I gained most of my posing knowledge from life drawing classes and coaching inexperienced models while I was photographing them. The experience on both sides of the lens has proved an invaluable tool when working in this particular field. I still have a lot of learning to do though.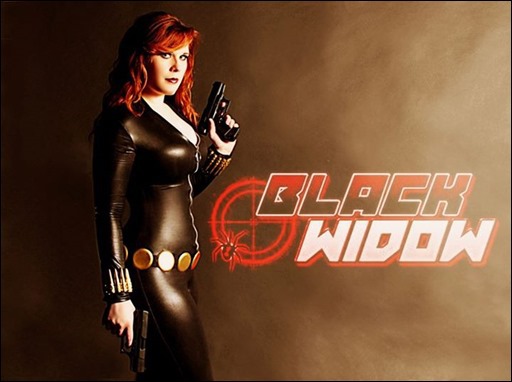 Do you make and/or design all of your costumes?
Yes and no. Like I said before, I'm still pretty new to this and came in with absolutely no sewing experience so I'm still learning as I go. Depending on the difficulty of the item I either make it, modify an existing item, or purchase pieces I don't have the time or skill to make. That's mostly the case with corsets, since I don't yet know how to make a quality one and I used them a lot in my costumes.
Which was the most challenging or satisfying to make?
I think it may be the one I'm currently working on, which is Jessica Rabbit. I may have bit off more than I could chew, because sequins are quite the pain to work with, especially if you've never worked with them before. But despite my occasional desire to pull my hair out it's coming along nicely and looks like it'll be finished in time for my self-appointed deadline, so I think I'll be pretty proud of it when it's finished.
Who are some your favorite characters?
Of the characters I've made costumes for, my top three favorites would be my Wicked Witch, Madelyne Pryor (Red Queen variation), and probably Dark Phoenix. Of characters I haven't yet made but still love or plan to make – Talia al Ghul, any version of Stephanie Brown, and River Tam.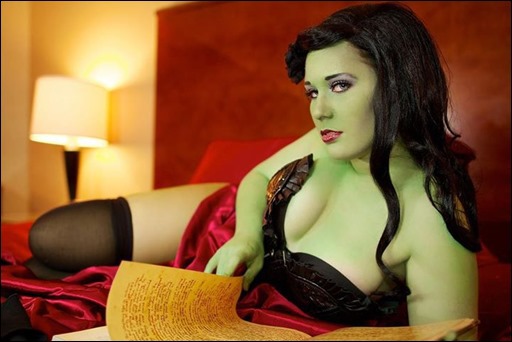 Which character do you find the most challenging to portray?
It's hard to say at this point because I've kind of stuck to characters I identify with or feel a connection to, so portraying their character in costume comes to me pretty easily. I am making an effort to step out of my comfort zone though, by asking opinions from other people. My primary concern is that I would be somewhat inept at really sweet or naïve characters, such as Disney types, because portraying cutesy and innocent has not been a strength of mine in the past.
Do you find that being a burlesque performer helps when you cosplay and do you ever incorporate your costumes in your burlesque show?
On definitely. Though my persona on stage and my personality in costume at conventions are two very different faces. Performing burlesque is very empowering and sometimes gives me the push I need to take on a particularly revealing costume. I'm actually a very modest and introverted person in my day to day life, so both burlesque and cosplay are very contradictory to that part of me. I'm also very much interested in something known as Nerdlesque, which is a geeky version of burlesque incorporating video game, anime, and comic book fandom. I'm currently working out a routine for a Wicked Witch segment featuring illusion and pyrotechnics, and I'm sure I'll use Jessica Rabbit in show at some point as well.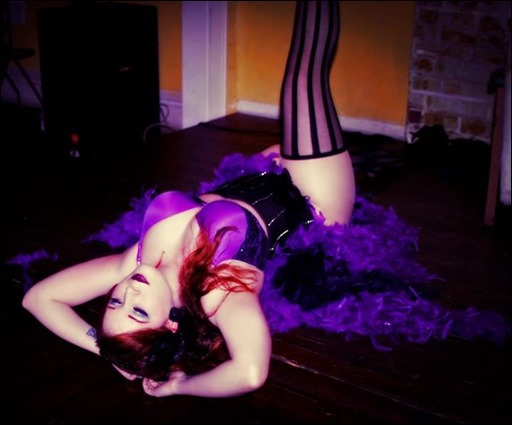 Do you read comics or play video games and which are your favorites?
I don't play video games, but I do love them. My whole nerdy fascination is to be blamed on my oldest brother playing Final Fantasy games and me just watching. Which led to some minor roleplaying games that I've since lost connection with. Reading, of course, has always been a beloved pastime of mine, and when Batman: The Animated Series started airing I became obsessed with it and that's where the love of comics started. That was at the same time X-Men: The Animated Series was on television and where I furthered my self-education on the genre.
Are there particular things that are bothersome when cosplaying in public?
I've encountered a few unpleasant instances but they're rare and far apart. For the most part I will find any excuse whatsoever to dress up and so when I go out I fully expect odd behavior and looks from some people.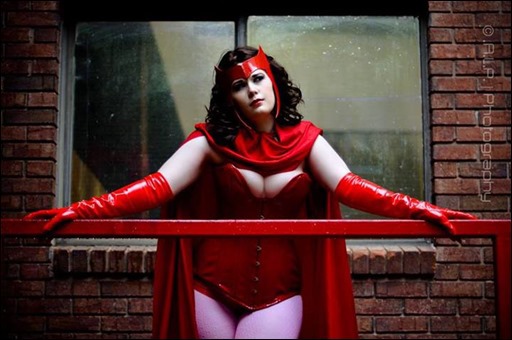 On the other hand, what do you enjoy the most about it?
I really enjoy the freedom. Before I started cosplaying I wasn't nearly as comfortable in my own skin. I'm not really a skinny girl so to get a lot of positive feedback, not only in spite of but because of my curviness, has been very liberating for me and a huge boost of my confidence. The community is also full of some really amazing, kind, and talented people, and I'm just so glad to be a part of it.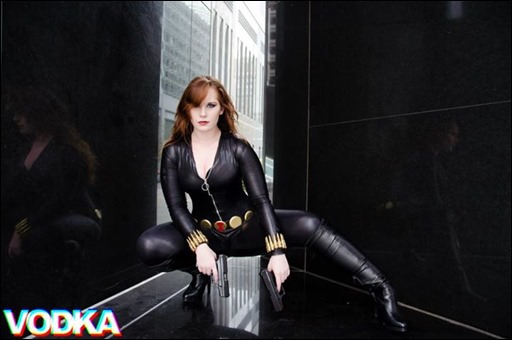 Do you have any favorite shows that you like to attend?
I've not had much opportunity to attend any really big conventions but I will say that Dallas Comic Con this past year was probably the most fun convention I've been to yet. However, I've only started going to bigger conventions in other cities somewhat recently so it's hard to say when I feel like I haven't yet experienced all that I could.
What's one of your most memorable moments while cosplaying?
More than my love for comics and video games I am absolutely fanatic about anything Wizard of Oz related, (except for that horrible movie with James Franco and Mila Kunis, ick). So at DCC this year I ran into a cosplayer with an absolutely wonderful Flying Monkey costume and freaked the heck out. I rarely fangirl outwardly, even when meeting celebrities, but in this case I seriously lacked composure. Though in the end we exchanged information and plan to coordinate a convention we can both wear our Oz costumes to in the future.
Who are some of your favorite cosplayers?
One of my first idols was Riddle, but I also really enjoy the work of Vampy Bit Me, and of course Yaya Han.
Has cosplay changed at all since you began?
I honestly don't think I've been at it long enough to say. I will say that when I first started getting into it there seemed to be a lot less common knowledge about it with the outside community. Now when I mention it I notice I have to do a lot less explaining to people. The unfortunate consequence of that fact being that mainstream media's influence on the community has proven incredibly destructive.
What advice do you have for someone just starting out?
Never let another person's solitary, inconsequential opinion dictate who you are or who you want to be, especially if that person is a complete stranger. Unfortunately, people who have been at this awhile can sometimes develop an elitist attitude and treat less-than-perfect cosplayers with a poor and undeserved attitude. I know because I've been on the receiving end. The only thing that matters is that you are happy and proud of the costume you're wearing.
If you could change anything since you started, what would it be?
Sewing lessons. I still need them. More importantly, corsetry instruction.
What does the future hold for Chelsea Johnson?
Haha, what a loaded question! Well, the biggest thing I have coming up I can't even mention just yet. But I'm joining forces with several cosplayers across the country to promote a service the geek community may find very useful in the time to come. We hope to go live on the project in a couple of weeks so if your curiosity is piqued keep an eye on my Facebook page as I'll be posting quite a bit about it on there!
I also co-pilot a non-profit project called Cosplay For Kids here in Texas, where we visit afflicted children in hospitals who can't make it out to conventions. I don't think it needs to be said, but we do this in full costume and character. I really hope this gets the chance to take off because it's been great so far. We spend some time with the children and do activities, as well as get to know them and in the end we just hope to put a smile on their faces. It's a cause worth checking out; even if you can't be a local volunteer we're happy just to have you show your support!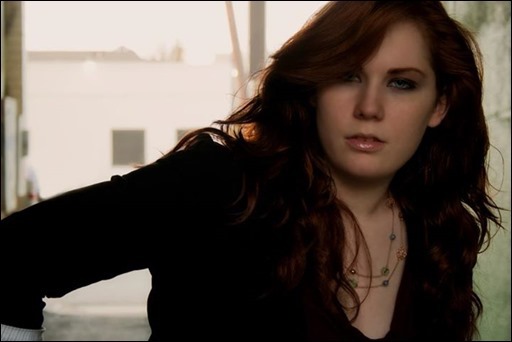 Chelsea, thanks for giving us, and all your fans, insight into the behind the scenes of your cosplaying and costuming work. We look forward to seeing more of your fantastic work in the years to come!
Booking & Contact
If you would like to book Chelsea Johnson for your convention or want to contact her for modeling opportunities, you can do so through her email at [email protected].
CAJCosplay Links
You can see more of her work at these links:
CAJCosplay Facebook
Texas Teasers Burlesque Facebook
Photo Credits
Isidro Urena
Majin Buchoy
Michael Shum
A.L.P. Photography
Ken Pearson
Vodka Photos
Bella Rush Photography
Rubi Gamez
Lemon-ikon Photography
Brian Dowd
MiKE BOiKE Cosplay Photography
Share your thoughts about Chelsea Johnson aka CAJCosplay in our comments section below!
– The Comic Book Critic