A STORM IS BREWING IN
GOD COUNTRY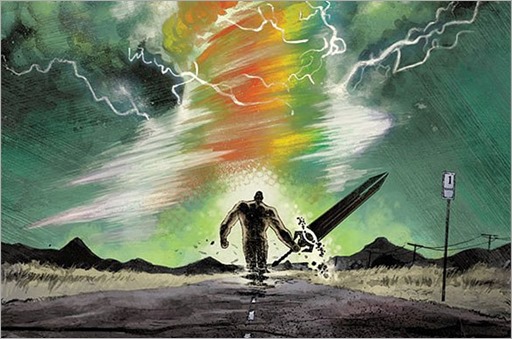 New series from Cates and Shaw set to launch in January 2017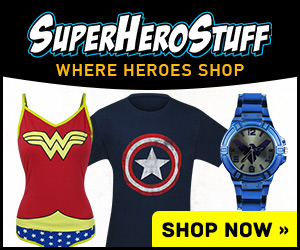 Here's your first look at 4 pages from God Country #1 by writer Donny Cates and artist Geoff Shaw, on sale January 11th, 2017 from Image Comics.
Press Release
"So much fun to watch creators find that next level. Go, Cates, go!"
—Brian Michael Bendis
Fan-favorite writer Donny Cates and Geoff Shaw (Buzzkill, The Paybacks) team up for an all-new series GOD COUNTRY, set to launch from Image Comics in January 2017.
In GOD COUNTRY readers meet Emmett Quinlan, an old widower rattled by dementia. Emmett isn't just a problem for his children—his violent outbursts are more than the local cops can handle. When a tornado levels his home—as well as the surrounding West Texas town—a restored Quinlan rises from the wreckage. The enchanted sword at the eye of the storm gives him more than a sound mind and body, however. He's now the only man who can face these otherworldly creatures the sword has drawn down to the Lone Star State…
"This is a story Geoff and I have been wanting to tell for such a long time, and to be able to do it with Image is beyond a dream come true," said Cates. "God Country is full of heart, action, giant swords, Kirby Gods, Texans, magic tornados, and family drama…so it's really just everything I love piled into one great, epic yarn. This January everyone is welcome to come on in, grab a beer, have a seat and get ready… we have a hell of a story to tell you."
Shaw added: "I love this book! Of course, I would say that, but I really do. I love that Donny and I get to work together again, and I love that we get to publish through Image. It's a story I've never heard before, both down to earth and out of this world. The whole team is on their A-Game and I cannot wait to share it with the world, Texas style!"
SOUTHERN BASTARDS meets American Gods in a high-stakes fantasy series that will kick off the new year with high-octane action and jaw-dropping worldbuilding. In GOD COUNTRY salvation is a double-edged sword.
GOD COUNTRY #1 Cover A by Shaw and Dave Stewart (Diamond Code NOV160544) and Cover B by Gerardo Zaffino (Diamond Code NOV160545) hits stores on Wednesday, January 11th.
The final order cutoff for comics retailers is Monday, December 19th.
Advance praise for GOD COUNTRY:
"Donny Cates is a fresh new voice much worth hearing." —Mark Waid
"God Country is the kind of comic book I wanted to make when I was as young and full of piss and sacrilege as Donny Cates is now. It manages to feel timeless, yet so of-the-moment, and it looks gorgeous doing it." —Tim Seeley
"Anyone who lives in Tornado Alley can tell you that the wrath of God is real. We see it dance over our fields and homesteads in the form of merciless, destructive twisters. Every once in a while new talents tear across the landscape of comics the same way, and God Country is the damage report. Cates brings inventive authenticity to both the family dynamics of American life and the fantastic elements of mythology in a way not seen since Morrison's Animal Man. Shaw and Wordie unleash a storm of art and color that deftly and energetically portrays both the mundane and the divine with equal skill. God Country is the real deal, and God help you if you miss it." —Phil Hester
"God Country #1 is a campfire story on speed. A gentle voice that sucks you in with quiet moments and big skies, it grows into a screaming funnel cloud of mythology and monsters so big it barely fits on the page. A widescreen Texas sky filled with Kirby Krackle. I can't wait to see where God Country touches down next." —Christopher Sebela
"God Country takes you on a ride from the heavy and desolate into a fantastical reality of living Gods, magical swords, and a mythology shrouded in mystery…! I can't wait to read issue 2!" —Babs Tarr
"The energy in the storytelling & art in this book is some of the best I've seen in ages. God Country engages and delivers on a level I wish more high-concept comics would." —Tristan Jones
"Donny Cates is one of the best writers in comics. His ideas are fresh, his stories have heart, and most importantly, they come from someplace real." —Daniel Warren Johnson
"Good, GOOD stuff. Solid, and solidly intriguing. Turned page furiously until I got to the last, then desperately wanted to find out what happens next." —John Layman
"Donny Cates has written a rip-roaring yarn that entertains right up to it's stellar cliffhanger/starting point for God Country which I can't wait to see where it goes. The driver at the accelerator is Geoff Shaw, whose spectacular storytelling and dynamic drawings really make this a page turner! Don't mess with Texas, the Gods have returned!" —Terry Dodson
"The exact kind of joyous, unbridled lunacy I've come to expect from Cates—and I loved every panel of it." —Michael Moreci