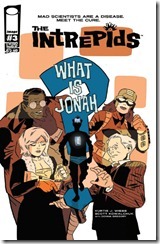 Writer/Co-Creator: Kurtis J. Wiebe
Illustrator/Co-Creator: Scott Kowalchuk
Designer: Scott Kowalchuk
Colorist: Donna Gregory
Letterer: Ariana Maher
Script Editor: Brittany Matter
Cover: Scott Kowalchuk
Publisher: Image Comics
Cover Date: May 2011
Cover Price: $2.99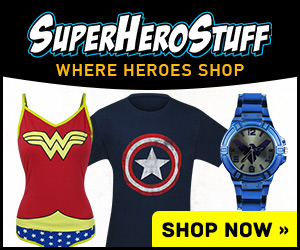 In 'A Manbot Named Jonah,' we start to discover the truth behind The Intrepids and their benefactor Dante. With the appearance of Jonah, suspicions begin to arise about the mysterious man who is obsessed on taking down mad scientists.
After being ridiculed by Mutovin, Dante the mechanical engineering prodigy of the group of scientists, storms off in a huff. This is one of the flashbacks we see in this issue. In another we see the four Intrepids in their first mission together. Crystal was fifteen and the others couldn't have been much older if they were at all. They looked unusually like slightly smaller versions of their current selves and Dante hadn't told them of the danger they were going to be facing. In a panel sequence we see Crystal using her Terminator-like augmented vision to take out two targets. Those targets were human – she was fifteen.
While working out some stress by wrestling Rose in a ring, Crystal expresses some concerns about how Dante is being so secretive about Jonah. It seems like the more they learn about themselves, the less they really know. While Dante leaves for an hour, Crystal, the help of Chester, is able to enter the locked room containing Jonah. While questioning him, she finds out more than she anticipated. Elsewhere, Dante is delivering a bit of 'recovered' technology to a paying client. This client just happens to be Mutovin!
Kurtis Wiebe hit his stride in The Intrepids #2 and it continues to show in this issue. He drops subtle hints of their past all throughout the story and gives us just enough information to make us wanting more. On page six, we see Crystal in her room and examining her surroundings, her past gets even more mysterious. But also along with the hints, the story moves along at a deliberate pace. The artwork by Scott Kowalchuk works just wonderfully in this series as well; His retro style is perfect for the story. I love the 'Sue Storm' hairstyle that Crystal had in the flashback to their first mission.
I'm really enjoying reading The Intrepids month after month and you should be doing the same. Go down to your comics shop and get #1,2, and 3 and support the artists putting out quality books and the companies taking the risk on publishing these stories. This is the way we can get more of these comics on the shelves.
– The Comic Book Critic
Comic Book Critic Rating: 9.0