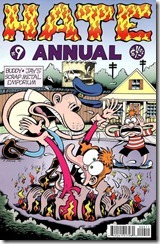 Writer: Peter Bagge
Artist: Peter Bagge
Colorist: Joanne Bagge
Production: Paul Baresh, Alexa Koenings
Publisher: Fantagraphics Books
Cover Date: Spring 2011
Cover Price: $4.95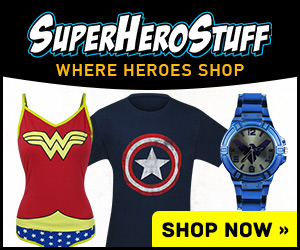 Peter Bagge continues the saga of Lisa and Buddy Bradley and their son Harold in Hate Annual #9. The story is broken down into 2 separately titled parts; the first part being 'Heaven' and the second part 'Hell.' In 'Heaven,' you see the Bradleys as a somewhat happy family, enjoying the good times that are afforded them. In 'Hell,' that all seems to fall by the wayside, as the ever-present dysfunction that runs through all the Bradley stories shines brightly.
Lisa, Buddy, and Harold fly to Seattle to visit Lisa's parents. Buddy has never met her parents and he's in for a real treat. He meets Lisa's cousin Leroy, who's a convicted sex offender, her Dad who's been diagnosed with Alzheimer's, and her step-brother who's got a long list of problems of his own. All these elements make for quite an interesting story!
Buddy Bradley has been a character I've been following since I picked up the first issue of Neat Stuff so long ago. For 25 years I've been happily reading the stories of the Bradleys and their highly dysfunctional relationships, not only with each other, but with the people they dated and later married. These are characters with a long and winding history.
Peter Bagge has always made you care for these characters no matter what crazy problems they had. He has this rare gift of getting his readers to empathize with the drawings on the page and realizing them as real people. Despite all of their problems, they try to do what they think is right, but what they think is right, may not always be so – just like real life. Bagge shows us a very human side to the characters he creates and mirrors life in a sometimes painful way.
Buddy, despite his upbringing, always tries to do the right thing. He may be a screw up at times, but when push comes to shove, he shows his heart and does what is best for his wife and son. This is something that we observe over the course of his maturing as a person; long gone are the crazy adventures of young Buddy.
As we live our lives, we can look at these pages and see a little bit of ourselves in the drawn panels. This is what makes this series, and all previous ones, stand the test of time and remain a great read.
– The Comic Book Critic
Comic Book Critic Rating: 8.5