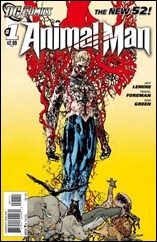 Writer: Jeff Lemire
Pencils: Travel Foreman
Inks: Travel Foreman, Dan Green
Colors: Lovern Kindzierski
Letters: Jared K. Fletcher
Cover: Travel Foreman, Lovern Kindzierski
Editor: Kate Stewart, Joey Cavalieri
Publisher: DC Comics
Cover Date: November 2011
Cover Price: $2.99
Title: "The Hunt – Part One: Warning From The Red"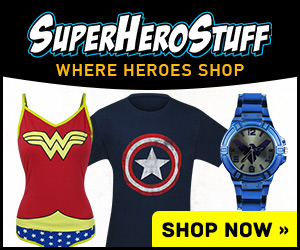 Animal Man is one of those DC superheroes that wasn't initially a big hit. That all changed in the 1980's when Grant Morrison and Chas Truog revamped the character. Morrison started to integrate Buddy Baker's family into the title and when Jamie Delano took over, the book took on a horror slant.
If you took the ideas that Morrison and Delano developed over the course of their runs on the title, you'd get the Animal Man that DC is currently publishing. As a superhero, actor, and activist, Buddy Baker takes on the qualities that Morrison championed. He seems to have a normal life – two kids, a wife, and a home – except that he can tap into the life web and take on the attributes of any animal.
Everything is going fine until Animal Man shows up at a police standoff in progress. There's a disillusioned man holding hostages in a Children's Cancer Ward at the hospital, and Buddy decides to help. While talking to the hostage taker, Animal Man is forced to tap into the life web to take care of the situation. Afterwards things get very strange.
The art by Travel Foreman can be inconsistent at times. His thin lined art makes certain sequences seem very plain and devoid of detail. This is more evident when Buddy is at home with his family at the start of the story. Some of his full body shots seem to be slightly out of proportion, mostly when it's at an odd angle.
His art really shines during the story's multi-page dream sequence. You could feel the desperation, fear, and urgency of those characters through the fantastic illustration by Foreman. Horror illustration is his forte.
Jeff Lemire does a wonderful job in his portrayal of the rebooted character. His Animal Man is deeply rooted in the Morrison/Delano vision of the character. The feel and tone of the story will be very familiar if you've read Animal Man in the late '80's onward. The strength of the story overshadowed the weakness of the art.
Animal Man #1 is one of the more enjoyable issues so far in the first week of DC's The New 52 releases. This may be one of the 'sleeper' titles to hit the store shelves.
– The Comic Book Critic
Comic Book Critic Rating: 8.0