DC ENTERTAINMENT REVEALS FIRST DETAILS OF "REBIRTH" TO RETAILERS AT COMICS PRO 2016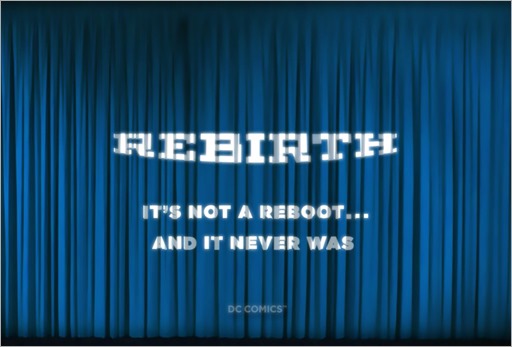 80-Page DC UNIVERSE: REBIRTH Special by Geoff Johns May 25, Titles to Ship Twice Monthly, New $2.99 Price Point Beginning in June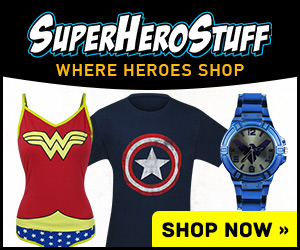 Today at ComicsPro 2016 in Portland, DC Entertainment announced the details of their massive "REBIRTH" title relaunch to begin in June 2016.
Check out they had to say and let us know what you think!
Press Release
Before a packed house of comics retailers at the ComicsPRO Annual Membership meeting in Portland, DC Entertainment Co-Publishers Dan DiDio and Jim Lee provided a first look at the company's plans for its massive "REBIRTH" title relaunch scheduled for June.
"At DC we believe in superheroes, and what makes them great," said Dan DiDio, co-publisher of DC Entertainment. "And, we also believe in the direct market and the core comics fan. REBIRTH is designed to bring back the best of DC's past, embrace the stories we currently love and move the entire epic universe into the future. We are returning to the essence of the DCU. With REBIRTH we are putting the highest priority on the direct market and we will continue to create and cultivate new opportunities for retailers to thrive and prosper, grow readers, fans and customers."
Retailers in attendance were also treated to a special personal video message from DC Entertainment Chief Creative Officer Geoff Johns. He outlined his perspective on the elements that make DC great and teased attendees with the opening line of his 80-page DC UNIVERSE: REBIRTH Special, on sale May 25th:
"I love this world… But there's something missing…"
Priced at just $2.99, this one shot will kick off a line-wide title relaunch. Written by Geoff Johns, it will feature an all-star roster of comics' most popular artists: Ethan Van Sciver (GREEN LANTERN CORPS, EDGE OF OBLIVION), Phil Jimenez (WONDER WOMAN), Ivan Reis (CYBORG, AQUAMAN) and Gary Frank (BATMAN EARTH ONE).
As a follow up to Johns' REBIRTH Special announcement, DiDio, and Co-Publisher Jim Lee, revealed to retailers plans to provide fans with more story, and more often. Beginning in June, all DC Universe monthly and twice monthly titles will ship at a new, lower price of $2.99. This new lineup includes a combination of DC favorites and new titles; titles will begin their runs under the "REBIRTH" banner and follow with another issue #1 beginning the series proper. In addition, DC's two flagship legacy titles will resume their original issue numbering, also shipping twice monthly: DETECTIVE COMICS will pick up with issue #934, while ACTION COMICS will continue with issue #957.
A special event revealing all talent and creative teams is scheduled to take place at WonderCon in Los Angeles, CA on Saturday, March 26. This press conference will be live-streamed on the DC Entertainment's YouTube channel, so everyone can experience firsthand all of the exciting new details surrounding REBIRTH.
The REBIRTH title lineup was announced as follows:
June
Rebirth Specials:
• AQUAMAN REBIRTH #1
• BATMAN REBIRTH #1
• THE FLASH REBIRTH #1
• GREEN ARROW REBIRTH #1
• GREEN LANTERNS REBIRTH #1
• SUPERMAN REBIRTH #1
• TITANS REBIRTH #1
• WONDER WOMAN REBIRTH #1
New #1 Issues (Shipping twice monthly):
• AQUAMAN #1
• BATMAN #1
• THE FLASH #1
• GREEN ARROW #1
• GREEN LANTERNS #1
• SUPERMAN #1
• WONDER WOMAN #1
New Issues (Shipping twice monthly):
• ACTION COMICS #957
• DETECTIVE COMICS #934
July
Rebirth Specials:
• BATGIRL & THE BIRDS OF PREY REBIRTH #1
• HAL JORDAN & THE GREEN LANTERN CORPS REBIRTH #1
• THE HELLBLAZER REBIRTH #1
• JUSTICE LEAGUE REBIRTH #1
• NIGHTWING REBIRTH #1
• RED HOOD & THE OUTLAWS REBIRTH #1
New #1 Issues (Shipping twice monthly):
• HAL JORDAN & THE GREEN LANTERN CORPS #1
• JUSTICE LEAGUE #1
• NIGHTWING #1
New #1 Issues (Shipping monthly):
• BATGIRL #1
• BATGIRL & THE BIRDS OF PREY #1
• THE HELLBLAZER #1
• RED HOOD & THE OUTLAWS #1
• THE SUPER-MAN #1
• TITANS #1
Fall
Rebirth Specials:
• BATMAN BEYOND REBIRTH #1
• BLUE BEETLE REBIRTH #1
• CYBORG REBIRTH #1
• DEATHSTROKE REBIRTH #1
• EARTH 2 REBIRTH #1
• SUICIDE SQUAD REBIRTH #1
• SUPERGIRL REBIRTH #1
• TEEN TITANS REBIRTH #1
• TRINITY REBIRTH #1
New #1 Issues (Shipping twice monthly):
• CYBORG #1
• DEATHSTROKE #1
• HARLEY QUINN #1
• JUSTICE LEAGUE AMERICA #1
• SUICIDE SQUAD #1
New #1 Issues (Shipping monthly):
• BATMAN BEYOND #1
• BLUE BEETLE #1
• EARTH 2 #1
• GOTHAM ACADEMY: NEXT SEMESTER #1
• SUPERGIRL #1
• SUPERWOMAN #1
• SUPER SONS #1
• TEEN TITANS #1
• TRINITY #1