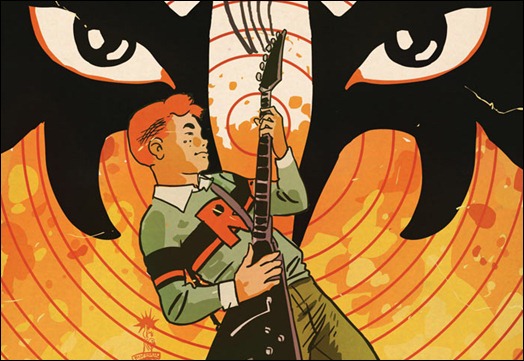 Archie Comics released a preview of the first chapter of "Archie Meets Kiss" by Alex Segura and Dan Parent from Archie #627 to CBR News. It includes a great variant cover from Francesco Francavilla!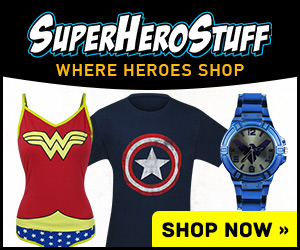 To properly kick off the issue, Gene Simmons, Paul Stanley, Alex Segura, and Dan Parent will be at Golden Apple Comics in Hollywood, CA on Wed. November 30th, 2011 to sign copies of Archie #627!
Here is a preview of the issue, courtesy of CBR News, and all the information relating to the Golden Apple signing.
Official Press Release

Paul Stanley and Gene Simmons, founders of the legendary rock band KISS will be signing copies of ARCHIE MEETS KISS part 1 at L.A.'s Golden Apple Comics on Wednesday, Nov. 30 to mark the launch of the historic crossover. The signing will also feature the ARCHIE MEETS KISS creative team of superstar artist Dan Parent and writer Alex Segura.

"Archie Comics is a leading comic book publisher so when we decided to create ARCHIE MEETS KISS, it was only natural to work with one of the best in the business," says KISS Co-Founder Gene Simmons. "Comic books are a staple in pop culture and fans are really going to enjoy this KISS series."

The four part ARCHIE MEETS KISS crossover begins in the pages of ARCHIE #627, and unites the world's most popular group of teenagers with the larger-than-life rock heroes of KISS to fight off a band of dangerous monsters bent on turning Riverdale into a town of zombies.

"When Gene and Paul reached out to say they wanted to do a comic with Archie, we were ecstatic," said Archie Comics Co-CEO Jon Goldwater. "The Archies and KISS are key parts of pop culture. To see them together like this is amazing and will have fans talking for a long time. We're honored to be a part of it. This event is going to be epic!"

EVENT DETAILS:

WHAT: ARCHIE MEETS KISS signing with KISS Co-Founders Gene Simmons and Paul Stanley Also featuring ARCHIE MEETS KISS creators Dan Parent and Alex Segura

WHEN: Wednesday, Nov. 30 at 7pm

WHERE: Golden Apple Comics, 7018 Melrose Ave., Los Angeles, CA 90038

NOTES: The first 100 fans at the signing will get a wristband allowing them to get one item signed by Paul Stanley and Gene Simmons during the first hour of the event. They will only be signing copies of ARCHIE MEETS KISS. Dan Parent and Alex Segura will sign copies for fans for at least two more hours.
– The Comic Book Critic