Manda Cowled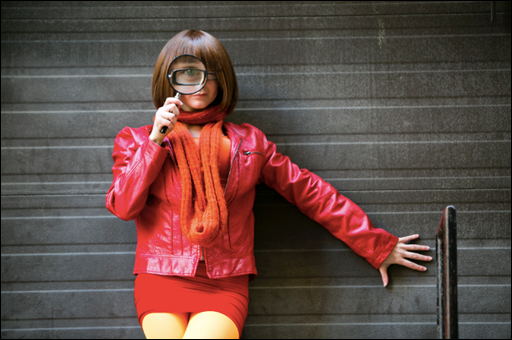 There are many talented models and performers who bring their love & enthusiasm to dressing up as their favorite characters. Comic Book Critic will occasionally showcase a performer who embodies this spirit of cosplaying.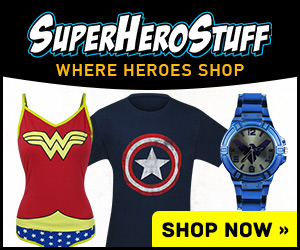 Whether it's creating the costume from scratch, altering the appearance of an existing one, or just getting into character, these performers spend a lot of time and effort on their craft. As much as we all enjoy seeing our favorite fictional characters represented in real life, let's not forget the behind-the-scenes work that goes into that portrayal.
One thing is for certain though, their love of cosplaying shines through in their work.
The Comic Book Critic Featured Cosplayer Interview is:
Manda Cowled From Toronto, Canada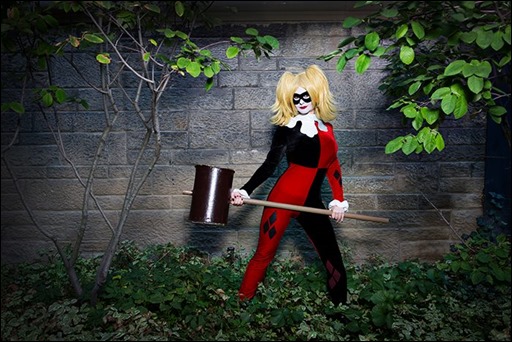 One of the founding member of The Geekettes, Manda Cosplay has only been dressing up as her favorite characters for a short time, but she has amassed a more complete repertoire of costumes than many of her peers. Although she's had help creating a lot of her costumes, once she puts them on, she truly becomes the character. Manda also does a spot-on Harley Quinn voice! If you have any doubts, just check out this video.
Luckily, Manda found some time in her busy schedule to give us this look into her cosplaying experiences and what she enjoys doing. Have a look…
When did you begin cosplaying and why did you choose to do so?
I started cosplaying in 2013 and the first convention I cosplayed at was Fan Expo in August. I started cosplaying because my cosplay partner Ashe Rogue asked me to, and also because I loved dressing up when I was young. I was always casting myself and friends in different shows.
Do you create all of the costumes you wear?
Ashe made most of my first costumes, many of them are Value Village and eBay collaborations like my Velma, but I am working on my skills and hope to make more on my own in the future.
Did you grow up playing video games or reading comics and do you still do those things?
I grew up playing My Little Pony, Sonic and Street Fighter on the Sega; in fact, I still have all of those. I loved video games as a kid, though I was never good at them. I still love them to this day. I didn't start reading comics until high school though. I got into those characters through the 90s cartoons of Batman and X-Men.
I've read that you like 'everything Batman,' but what are some of your other favorite comics?
I actually love Zenescope – specifically the Wonderland series. I am embarrassed to say I've fallen behind and need to catch up with them. I'm also a big X-Men, Thor, and Justice League fan girl.
Martian Man Hunter and Hawk Girl are some of my favourite non-Batman related characters.
Did you consider yourself a nerd or geek early in life and did you grow up in that environment or did you just grow into it?
Um, honestly I didn't make that distinction until high school.
Generally everyone loved Batman. He was awesome – and had movies and a TV show. You didn't need to be a nerd to appreciate him. My biggest love as a kid was actually Power Rangers, as I hung out with mostly boys, it was popular and not a nerd thing.
It wasn't until high school, and now that I'm older, that I really see the big distinction. So I guess I grew into it.
So what do your non-cosplay friends think of your cosplaying?
They think that it's neat. Generally they are also nerds, so they respect it even if they don't want to dress up themselves.
How long have you been a member of The Geekettes & how did you three gals decide to create the group?
Since June 2013. Right around my birthday, I think, we decided to make this happen… maybe before. Our first convention together was Fan expo.
Again this is mostly Ashe making us do it. Haha! But it was a great idea and I am glad we did.
What keeps you wanting to do more in terms of cosplaying?
So many characters and new obsessions.
I love to do characters I obsess with, which is why it is hard for me to do characters I don't know well, like some of the games Ashe plays or Animes that Ray watches.
But I am trying to expand away from my comics.
What's one of your most memorable moments?
My most memorable moment would be at my first convention – the first time I was able to be Harley Quinn.
I worked for weeks to get the Harley voice. The first time I used it on Toronto Joker, he broke character and dropped his dynamite on the Batmobile.
I was so proud that I had finally gotten the voice down and was able to impress a cosplayer I had respected.
Have you ever had any bad experiences with people while cosplaying?
Um, not overly.
Power Girl did punch a man in the testicles once for thinking the Boob Window was consent. But never again after that.
There are always people who claim some women 'over-sexualize' their cosplaying. Do you feel some cosplayers go too far or does it really matter as long as they're having fun with the hobby?
Mostly have fun and try to stay true to the character while making it your own. As long as you aren't breaking any laws, who cares what anyone else thinks.
Guys, we dress up as fictional characters and we all have different skill levels and just want to have fun, why fight among ourselves when we should be supporting one another?
How do you find the time to create your costumes, work, and do all the other things you enjoy?
Haha. Well this year it's really hard. I had to cancel some conventions due to my new job as well as an addition to the family.
I am hoping to work on some cosplays this year and to have them ready to get back to attending more cons in 2015.
Do you have any cosplayers that you look up to?
Actually, I used to follow Enji Night before I knew cosplay was even a thing. I also follow a few others that I love and help inspire me to do more and better costumes.
What are your thoughts on how the hobby has been progressing?
I don't watch reality TV and I don't care about major celebs  – even less so about minor ones. I don't really follow the progression.
Generally it is a hobby I enjoy and do because my best friend got me into it. Let's all just have fun.
What advice do you have for someone just starting out?
Do a character you love. Start out with one costume. Finish it and enjoy it.
Never do a character you don't love because you won't be as dedicated to the costume or have as much fun. It doesn't matter if they are popular or not.
I do Harley because she's my favourite character from when I was a kid, not because she's a fan favourite.
If you could change anything since you started, what would it be?
I would get a much better Harley Animated suit and would have started learning how to sew sooner.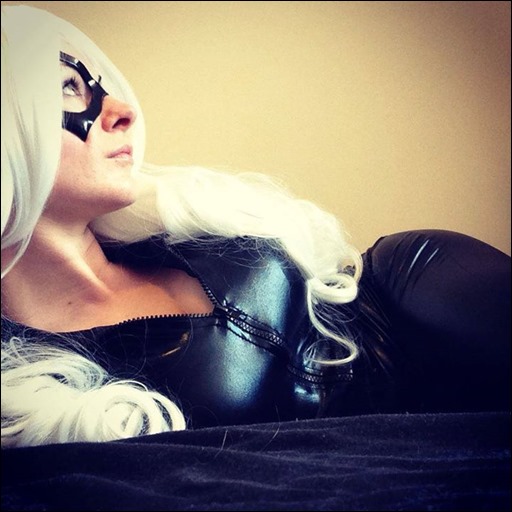 Do you have any new costumes that you're working on, that you can tell us?
Yupper.
Kakashi is started, and another Naruto character to follow and jumping into some Disney hopefully.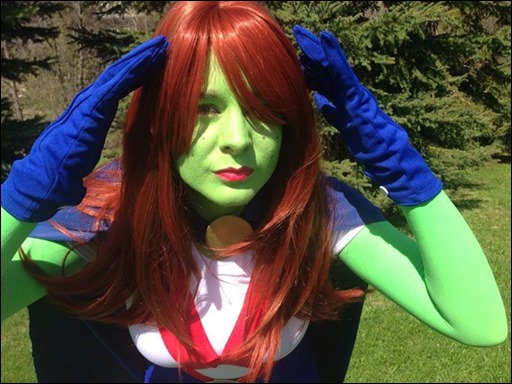 What does the future hold for you?
Hopefully more conventions, skill development, and better costumes.
Maybe even a guest at a con at some point… 'cause that would be cool!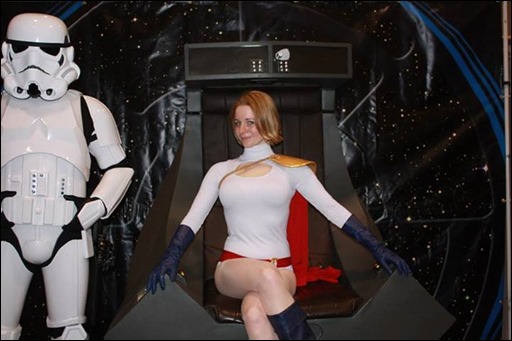 Thanks Manda for allowing us a look into what goes into your cosplaying and what you enjoy! We look forward to seeing more of your work in the future!
If you'd like to contact Manda Cowled for an appearance at your convention or a professional photo shoot, you can do so here.
You can find more of Manda Cowled's cosplay and costume work below:
Manda Cowled Links
The Geekettes
Share your thoughts about Manda Cowled and her work in our comments section below!
– The Comic Book Critic