Lossien

There are many talented models and performers who bring their love & enthusiasm to dressing up as their favorite characters. Comic Book Critic will regularly showcase a performer who embodies this spirit of cosplaying.
Whether it's creating the costume from scratch, altering the appearance of an existing one, or just getting into character, these performers spend a lot of time and effort on their craft. As much as we all enjoy seeing our favorite fictional characters represented in real life, let's not forget the behind-the-scenes work that goes into that portrayal.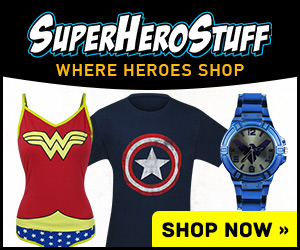 One thing is for certain though, their love of cosplaying shines through in their work.
The Comic Book Critic Featured Cosplayer Interview this week is:
Lossien from Southern Ontario, Canada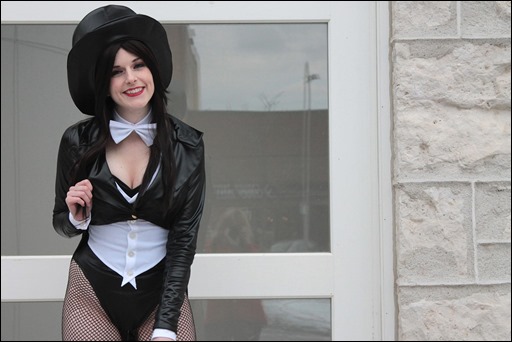 Having started in high school, Lossien has been honing her costuming and cosplaying talents for several years. Not only is she a GeekxGirl, she's also been winning awards for her excellent costuming since 2008! And her work is only getting better as time progresses.
It's easy to see why she wins so many awards, just look at her costuming work in this interview. We caught up with Lossien and asked her some questions about her costuming work and her experiences in cosplaying.
She was kind enough to let us use a brand new image from her most recent Zatanna photo shoot with EvieEvangelion which is just above!
Find out more about the great cosplayer Lossien below…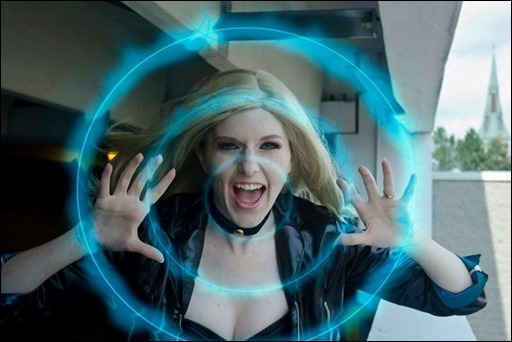 When did you begin cosplaying and what made you decide that it was something you wanted to do?
I started cosplaying back in high school – I was in the Anime club, and we had the opportunity to go to Anime North.  I jumped at the chance, and when I found out that dressing up was an option, I jumped at that chance, as well.  I loved the entire event, and seeing everyone else in amazing costumes really inspired me. My parents used to attend Toronto Trek, so they were pretty understanding about the whole thing.
What was the first costume that you made for yourself?
The first costume was Kiki, from Kiki's delivery service.  I made a broom, and the bow on the head, and hunted around for clothes that would work for the dress and leggings.  I ended up getting my hair cut like hers, ten years ago it was impossible to find decent wigs.
Did you go to school for costume design?
I went through school for Fashion Design.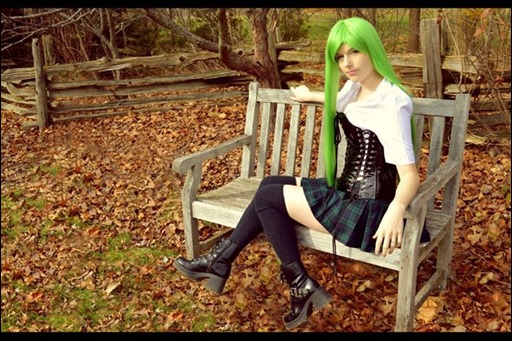 Out of all your costumes, which was the hardest to make?
Hmm… That's a tough one.  I'm always trying to push myself and make something new.  Harley's hood was fairly difficult, and the phoenix on Dark Phoenix was anything but easy… but I would have to say that Black Canary was the most difficult, for a number of reasons.  The base outfit is actually 3-4 layers of material, with boning, ribbon, and lining, among other things.  The jacket was also a challenge – the outer part is a stretch wet-look spandex (to match the bodysuit), and the lining is a satin.  Combining the stretch with the non-stretch was tricky, and had me uttering curses at some points, but I also put a pocket into the back of the jacket, so that the entire jacket can turn into a clutch.  It turned out well for the masquerade skit at Fan Expo this year.
When you first started out, did you ever think you were going to win awards for your work and how do you feel about it now?
When I first started out?  Not at all!  Even my first entry at Anime North in 2006, where some friends and I did a flag and fan dance, we weren't expecting anything.  We won, and it kind of lit a fire for me.  I enjoyed it so much, that I started getting more and more serious about it.  For a while I was too serious about it, to be honest.  I entered at every convention I went to, and spent waaaaay too much time on the outfits.  Now, I'm much more relaxed about it.  I still enjoy getting awards, and every time, I'm surprised.  When you spend time in the green room before the competition and chatting with the other contestants, you realize how much better their outfits and skits are, haha!
Have you modeled outside of cosplay and is it something you'd consider doing?
I've never modeled outside of cosplay, but it's something I'd like to do.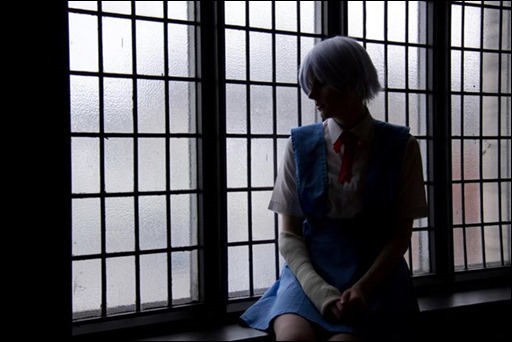 Who are some your favorite characters to cosplay?
Anyone I've already cosplayed.  I pick costumes because I like the characters and the designs, so anyone I've cosplayed as is someone I like.  It's very hard to pick, but my top five would be Harley Quinn, Mystique, Asuka, Zatanna, and Jessica Rabbit.
Did you consider yourself a nerd or geek while growing up and do you now?
Yes, very much so. I'm not as geeky nowadays as I used to be, to be honest. Growing up, I played D&D, cosplayed, read, and gamed.  Ocarina of Time was one of my first RPG's, (and Zelda/Sheik is on my dream cosplay list!), though I tend to get frustrated with the games and don't always finish.  I'm quite happy watching someone else play – I watched my husband beat Skyward sword when it came out, for instance.  I cosplay more now that I did then, so I am geekier in that aspect.  I always tell people that I am a cosplayer first, that's how I'm a nerd.
How long have you been with GeekxGirls and why did you decide to join?
Hmm, I met the GeekxGirls in May of 2011, at a Star Wars event in London, Ontario.  I loved the idea, and had the amazing opportunity to work with Wandering Dana of Geek Girls in November of 2011.  We shot my Mystique costume, and during the entire shoot we talked.  I mentioned how I really wanted to join, and just after that I was allowed to join.  I love how the shots of my Mystique turned out, and shooting with Dana is always a highlight for me.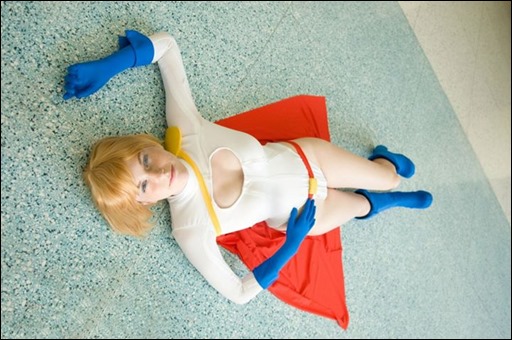 Since you cosplay a wide range of characters, did you grow up with a lot of that?
My parents are pretty geeky themselves (they game every weekend with their friends, and they used to go to cons themselves), so I grew up with an appreciation for the geekier things in life.  When I got into anime, my sisters and I would watch it all together (they both cosplay as well).  I spent hours on the computer in high school, role playing with friends on online message boards.  Any interest I had in anything geeky or nerdy was encouraged.  I was fairly energetic, so I think my parents welcomed anything that took my energy and attentions.  Except when it affected my grades, but in all honesty, running around Coruscant as a Jedi, and saving the world was more fun (I'll not go into details of my Mary Sues, it was a long time ago, and embarrassing).
Do you also read any western comics along with Japanese manga?
I don't read a lot of either, anymore.  I'm a little intimidated by comic book fans, and I wouldn't know where to start.  I stick with fantasy novelists, most notably Anne McCaffery and Mercedes Lackey.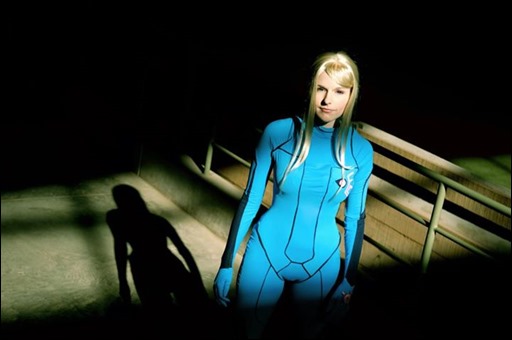 Having attended both Comic and Anime Cons, what do you find to be the major difference between both and do you prefer one over the other?
The major difference is fairly minor, actually.  Anime cons tend to have more cosplayers, and the people are a little friendlier, in terms of striking up a conversation with random strangers.  Not to say that people at comic cons are mean or anything, they're quite nice as well!  They're just a little less likely to start talking.  I've made more friends at anime cons, but lately I've been getting more into comic cosplays, so I prefer the comic cons, as the costumes are more recognized. I've spent a very long time going to anime conventions, and it's nice at this point to try other conventions.
Do you have any other interests that you're pursuing outside of cosplaying and costume design?
I do some sculpting, and some writing.  I don't pretend to be any good at either, though.
What keeps you coming back to cosplaying and wanting to do more?
I love the challenge!  Every costume is something new – trying a new technique for spandex or attempting to work with heat forming.  I keep pushing myself, and upcoming costumes will include embroidery, hoop skirts, more spandex, and beading.
What's one of your most memorable moments while cosplaying?
When I first made a plugsuit for Asuka (and I hope there are no pictures of that…), I wore it to Anime North.  I was wandering around, and wandered past where they do the autographs.  Tiffany Grant (who voices Asuka in english) spotted me, and wanted to take a picture with me.  Unfortunately, they don't allow that in the autograph area, so we parted ways and I didn't think twice about it.  A couple of hours later, she hunted me down on the convention floor to get my picture.  It was an amazing experience – the fact that she liked my costume of her character enough that she wanted a photo with me.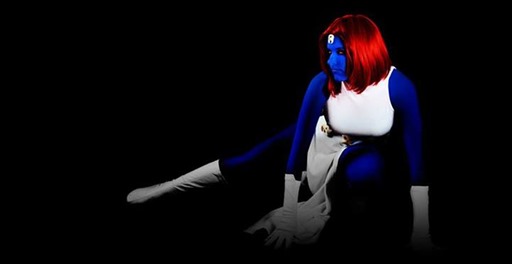 Have you ever had any bad experiences at conventions or while cosplaying?
We've had some drama among attendees, because tempers are frayed because of lack of sleep, stress, and then forcing yourself into sometimes uncomfortable costumes for hours on end.  Apart from the normal drama, I once had a skit that fell apart more and more the hour before we performed.  We found out our music wasn't working, then we found a hole in the costume, and then we got in a bit of a fight right before we went on stage.  We ended up doing it anyway, and I'm glad we went through with it.  Apart from that, I had a person jump on stage during my skit and assault me.  I don't like to talk about it too much, though, and generally forget about it.  I went on stage at the next convention, getting right back on the horse as it were.
Do you have any cosplayers that you look up to?
The few cosplayers I look up to are Vickybunnyangel (her sewing abilities are unparalleled), Callie Cosplay (her photos are amazing), and Gillykins (whose ability to work with spandex makes me weep with envy).
There have been plenty of changes, good and bad, in the cosplay community over the years, what are your thoughts on that and how do you see the hobby progressing?
Like anything mainstream (which cosplay is now), there are many sides.  As more and more people flock to the community, you get more people being mean, more people saying bad things, and more people making fun of cosplayers.  On the other hand, you have a much larger group of people standing up for cosplayers, and banding together.  I'm seeing a huge positive movement in the cosplay community, and it's something I like seeing. In my opinion, cosplay is for fun, and so long as you're not hurting anyone, you're doing it right.
What advice do you have for a novice cosplayer?
Try to ignore the internet, and do it because you enjoy it.  Don't do it to be famous or well-liked, or to show off what you can do.  These can happen, but do it because you love it.  When I watch a new show, or see a new character, one of my first thoughts is 'I wanna cosplay that!', or 'How could I make that?'  I love that part of it.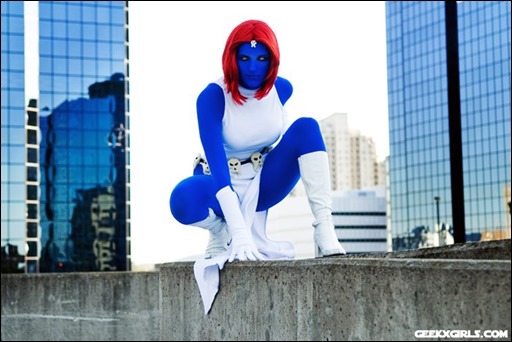 If you could change anything since you started, what would it be?
I don't think I'd change anything.  I try to take a rather philosophical view on things like this, and I like to think that every mistake I've made has helped to make me the person I am now.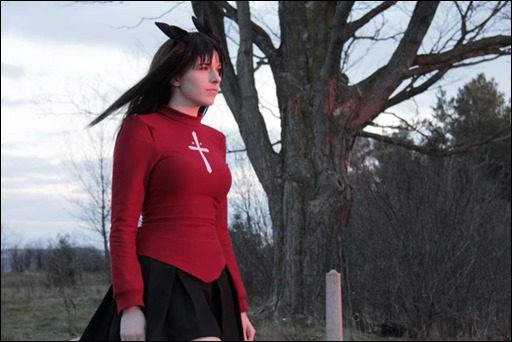 Do you have any new costumes that you're working on, that you can tell us?
I am always working on something – right now I'm fixing up my Sailor Moon, Wicked Lady, and I have the material to make a Dark Soper Girl.  There's also a really nice red on my fabric shelf that I keep looking at and thinking about Seras from Hellsing… But I don't have the wig.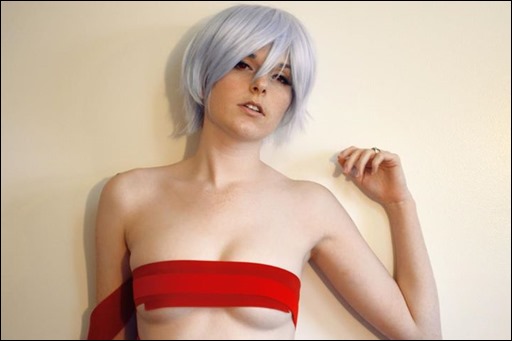 What does the future hold for you?
More cosplay~!  There are so many characters and costumes I want to make, and every day I think of a new one.  I don't think I'll ever complete my list!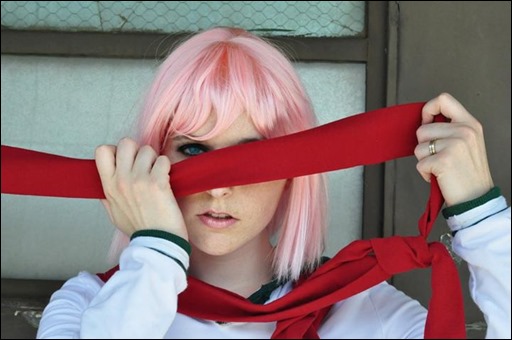 Thanks for the interview and letting us showcase your talents, Lossien. We look forward to seeing a lot more of your great work in the future!
Lossien Links
Photo Credits
SuperHero Photography by Adam Jay
Sarah Hoyland
Share your thoughts about Lossien in our comments section below!
– The Comic Book Critic