Before There Was A Justice League, Before There Was A Justice Society – There was Justice, Inc.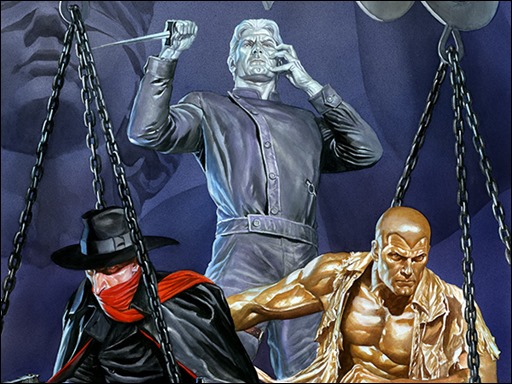 JUSTICE, INC. #1! WRITTEN BY MICHAEL USLAN! A DYNAMITE ENTERTAINMENT PRODUCTION SET FOR AUGUST RELEASE!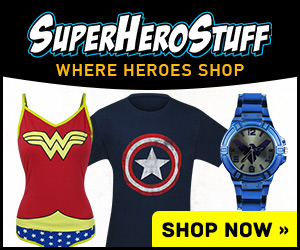 Justice, Inc. #1, by Michael Uslan and Giovanni Timpano featuring The Shadow, The Avenger, and Doc Savage, returns in August 2014 from Dynamite Comics.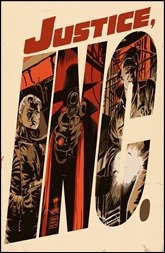 Press Release
An event 75 years in the making! Stretched across time, The Shadow, Doc Savage, and The Avenger meet for the first time in Justice, Inc. #1! With the stakes this high, it will take three heroes to fight together as the Justice, Inc.! In time for Dynamite's 10th Anniversary celebration, Justice, Inc. #1 will be released in August 2014 and is written by Michael Uslan with interiors by Giovanni Timpano. The Original Avenger has been the star of his own Justice, Inc. series and previously drawn by some of the greatest artists in comics: Jack Kirby! Joe Kubert! Kyle Baker! And now joining those illustrious ranks of illustrators, come covers by Alex Ross, Francesco Francavilla, Stephen Segovia, Ardian Syaf and Gabriel Hardman!
"Doc Savage inspired the creation of Superman. The Shadow directly inspired the creation of Batman. The Avenger sparked the creation of a multitude of… Well… Avengers! What an honor to write a story starring them all! It's always been beyond my comprehension how Street & Smith pulp magazines and comics never ever in 75 years teamed the three of them up! Can you imagine if up till now DC had never crossed/over Superman, Batman and Wonder Woman? Could you grasp Marvel never teaming up Captain America, Sub-Mariner and The Human Torch? I love history! And THIS, fellow fan-boys, IS history! I am so excited that this task has fallen to me. I love these characters and knew Walter Gibson, creative force behind The Shadow. I feel a personal obligation to him to do the very best job I can, and I'm grateful to Nick Barrucci and the Dynamite team for making this happen at last!" – Michal Uslan, writer of Justice, Inc.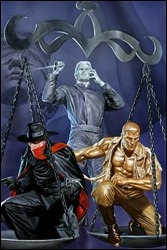 "Michael is one of the most inspired and versatile writers in the industry with his experience in comics, film and prose," says Dynamite CEO / Publisher Nick Barrucci. "Michael doesn't write many series due to his schedule, but when he does, he puts all of his energy and a passion that few can bring to a series, and it shows. This IS a historic cross-over, and we couldn't be more pleased that Michael is the person spearheading the series. And the best part is that Michael will use his PR machine to help promote the series every issue in stores for retailers to help them have higher sell through as more fans will know of the series. And nothing is more exciting than having a series reach as many readers as possible."
In Justice, Inc. #1, an airliner vanishes without a trace! It's the crisis that brings together, in a historic team-up for the first time ever, Street & Smith's super-star trinity: The Shadow! Doc Savage! The Avenger! 75 years in the making, JUSTICE, INC. begins here, spawned by a horrific tragedy of death and destruction secretly orchestrated by some of the most powerful and unexpected villains in the history of the pulps! Chapter 1 (of 6): "The Time Machine!"
Justice, Inc. #1 will be solicited in Diamond Comic Distributors' June Previews catalog, the premiere source of merchandise for the comic book specialty market, and slated for release in August 2014. Comic book fans are encouraged to reserve copies of Justice, Inc. #1 with their local comic book retailers. Justice, Inc. #1 will also be available for individual customer purchase through digital platforms courtesy of Comixology, iVerse, and Dark Horse Digital.
Michael Uslan is the originator and Executive Producer of the Batman/Dark Knight movie franchise. Most recently, Uslan wrote the critically-acclaimed story, "Silent Knight, Unholy Knight" in BATMAN BLACK & WHITE, as well as Dynamite Comics' "The Shadow/ Green Hornet: Dark Nights."
– The Comic Book Critic