TOPPS Unveils John McCrea's MARS ATTACKS Trading Cards
Eisner Award-Winner to Illustrate Exclusive Subset & Hand-Drawn Sketch Cards
Press release
The Topps Company today has released a first look at a special subset of all-new trading cards by acclaimed comic book artist John McCrea, to be included in this summer's Mars Attacks Heritage card set.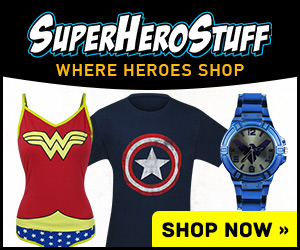 McCrea, the Eisner Award-winning illustrator and co-creator of DC Comics' Hitman (with Garth Ennis), is the artist on IDW's Mars Attacks comic book series. Pulling double duty, McCrea has also created 15 brand new images for Topps, exclusive to Mars Attacks Heritage– four of which are unveiled today.
The 15 images, officially titled 'The New Universe Subset,' offer a glimpse into the new Mars Attacks, which build from IDW's upcoming comic book. In addition, the subset will include insight into the new series, through a narrative that unfolds on the back of each card.
"We wanted John to treat these cards like miniature comic book covers," said Adam Levine, Topps' Licensing Manager. "To weave the cards and comics together even further, we crafted a story that introduces fans to our reimagining of Mars Attacks, beginning years before the Martians invade and continuing into the future, perhaps even beyond what you'll see in IDW's series in 2012. If fans look closely, they may even spot a few hints at what lies ahead."
Along with providing art for 'The New Universe Subset,' John McCrea recently paid a visit to Topps in New York, and found time to contribute a limited number of original, hand-drawn sketch cards to be randomly inserted into packs of Mars Attacks Heritage.
"I'm very excited to be able to play in this world of aliens and robots and giant insects," said McCrea. "Mars Attacks is right up my alley; it's everything I love to draw. I'm thrilled to be a part of the creation of this new world and to be able to my own stamp on it."
Mars Attacks Heritage releases this July, while IDW's new comic book debuts in June. Both are currently available for order.
For more on Mars Attacks, including an ever growing gallery of sketch cards, follow on facebook: www.facebook.com/MarsAttacks
For all the latest updates, follow on twitter @realmarsattacks
Attached:
• 4 of the 15 all-new images.
• Sketch card by John McCrea.
• Photo of John McCrea, at Topps in NYC, as he hand draws sketch cards for Mars Attacks Heritage
– The Comic Book Critic