FAITH #2 – The Most Successful Independent Superhero Series of 2016 Hits New Heights in August!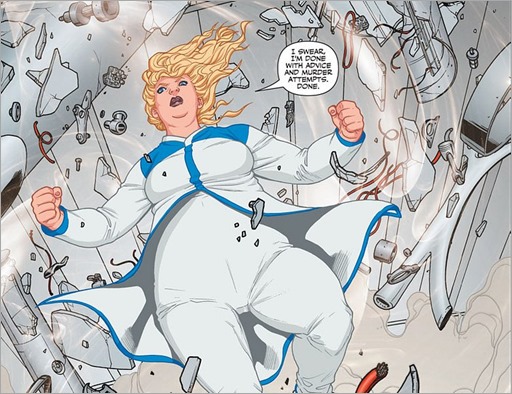 This summer, the hottest hero in comics is going head-to-head with her very first super-villain!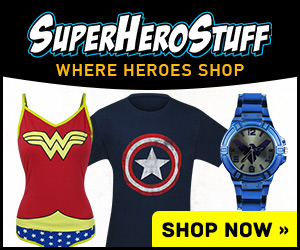 Here's your first look at 5 pages from Faith #2 by writer Jody Houser and artists Pere Perez & Marguerite Sauvage, on sale August 24th, 2016 from Valiant Comics.
Press Release
Valiant is proud to present an advance preview of FAITH #2 – the stratospheric second chapter of "THE FUTURE OF VALIANT"'s smash-hit ongoing series from rising star Jody Houser (Orphan Black, Mother Panic) and sensational artists Pere Perez (ARCHER & ARMSTRONG) and Marguerite Sauvage (DC Comics Bombshells)! From international headlines to multiple sold-out copies and universal critical praise, Faith Herbert has conquered it all. Now, she faces her greatest challenge yet in the form of an up-and-coming super-villain with a serious axe to grind! Imprisoned in the grand design of her arch-nemesis' deceit, Faith's superhero headaches are about to begin in full force…as her secret identity is put on the line!
Trapped with no aid in sight, Faith is coming face to face with her very-first super-villain! L.A.'s own sky-soaring hero always wanted to be like the comic book characters that inspired her…but is she ready to deal with the consequences of being a bonafide superhero? And, as if one new challenger weren't enough, a shadowy figure is closing in on Faith's private life and the truth about Summer Smith, her secret alter ego! How's that for a cliffhanger?!
Jump on board here to find out why fans and critics everywhere are championing Faith…and why the year's best-selling independent superhero series is also the best reviewed!
"✮✮✮✮✮ … FAITH will restore your faith in comics again. It's like reading Spider-Man or Superman for the first time." – Spartantown
"✮✮✮✮✮ … A hero that will appeal to fangirls and fanboys everywhere." – Nerds on the Rocks
"✮✮✮✮✮ … Marvelous… [FAITH] is an entertaining read from start to [finish]…" – The Broken Infinite
"✮✮✮✮½ … If you haven't jumped on [FAITH] yet, now is the perfect time… Packed to the brim with humour, drama and excitement, FAITH is all but guaranteed to become your new favorite superhero." – Big Comic Page
"✮✮✮✮½ … An excellent start… [FAITH] is back and better than ever." – Hulking Reviewer
"✮✮✮✮½ … A book full of heart and hope…[and] a worthy addition to the Valiant pantheon…" – Bounding into Comics
"✮✮✮✮½ … Houser creates a great all-ages story while crafting one of the best female characters in all of comics." – Outright Geekery
"✮✮✮✮½ … FAITH will be a gateway to a new generation of comic readers." – The Fandom Post
"✮✮✮✮½ … A must-read book…[and] an excellent new story from Jody Houser…" – AiPT!
On August 24th, Faith's headline-grabbing adventures continue as Jody Houser, Pere Perez, and Marguerite Sauvage deliver the next high-flying chapter to the year's most talked-about new series in FAITH #2 – featuring covers by Kevin Wada (She-Hulk), Jelena Kevic-Djurdjevic (Thor),  Jerry Ordway (Adventures of Superman), Meghan Hetrick (Red Thorn), Joe Eisma (Morning Glories) and Tula Lotay (The Wicked + The Divine)!
Plus: In stores the very same day, don't miss the best-selling debut that launched Faith into solo super-stardom with the FAITH #1 SECOND PRINTING! Packed with content at a colossal 48 pages, go back to the beginning as Jody Houser, Pere Perez, Marguerite Sauvage, and Colleen Doran present the sold-out first issue of Faith's first ongoing series! But that's not all!  Each copy of the FAITH #1 SECOND PRINTING doubles as an early look ahead at Valiant's biggest year yet with "THE FUTURE OF VALIANT" SNEAK PREVIEW flip book – spotlighting an all-new wave of ongoing series, prestige format projects and standalone events from the largest independent superhero universe anywhere in comics!
Then, Faith flies even higher this November in FAITH #5 – a history-making, 48-page election special teaming the leading female hero in comics today with Hillary Clinton, the first female nominee from a major political party, for a special tale written by comics legend Louise Simonson with art by FAITH's own Pere Perez! Also featuring Jody Houser, Meghan Hetrick, Rafer Roberts, Colleen Doran and more, join an all-star cast of of Valiant's greatest talents on November 2nd—just days before Election Day 2016 — in FAITH #5 as the leading heroine in comics today soars for a landmark comics event!
FAITH #1 SECOND PRINTING
Written by JODY HOUSER
Art by PERE PEREZ, MARGUERITE SAUVAGE and COLLEEN DORAN
Cover by KEVIN WADA (JUN168710)
$2.99 | 48 pg. | T+ | On sale AUGUST 24th (FOC 8/1/16)
FAITH #2
Written by JODY HOUSER
Art by PERE PEREZ and MARGUERITE SAUVAGE
Cover A by KEVIN WADA (JUN161884)
Cover B by JELENA KEVIC-DJURDJEVIC (JUN161885)
Cover C by JERRY ORDWAY (JUN161886)
Cover D by MEGHAN HETRICK (JUN161887)
Variant Cover by JOE EISMA (JUN161888)
Variant Cover by TULA LOTAY (JUN161889)
$3.99 | 32 pgs. | T+ | On sale AUGUST 24th (FOC – 8/1/16)