Master Darque Begins the Fall of the Valiant Universe in BOOK OF DEATH #3 – Coming in September!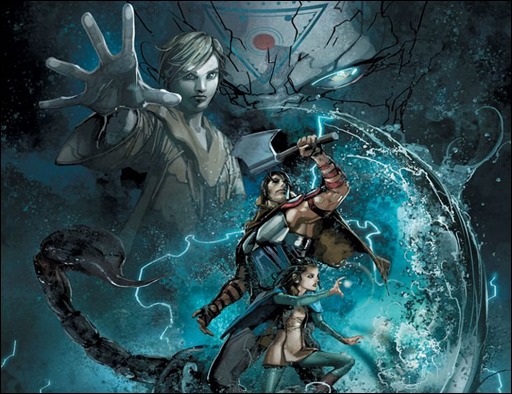 This September, the mysterious force behind the fall of the Valiant Universe stands revealed…as Master Darque descends on the Eternal Warrior!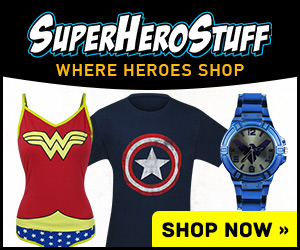 Here's your first look at several pages from Book of Death #3 by writer Robert Venditti and artists Robert Gill & Doug Braithwaite, on sale September 23rd, 2015 from Valiant Comics.
Press Release
Valiant is proud to present the first look inside BOOK OF DEATH #3 (of 4) – the third can't-miss chapter of Valiant's cataclysmic summer event from New York Times best-selling writer Robert Venditti (X-O MANOWAR) and blockbuster artists Robert Gill (ARMOR HUNTERS: HARBINGER) and Doug Braithwaite (IMPERIUM)!
On September 23rd, Valiant's most sinister villain – the maleficent Master Darque – reemerges to destroy the Eternal Warrior…and reshape the future of the Valiant Universe in his own twisted image!
The terrible future chronicled in the Book of the Geomancer continues to reveal itself as an unexpected and untold player…Master Darque…emerges to make his bid for control of the Earth's newest Geomancer! But does the reappearance of history's most powerful necromancer mean an apocalyptic future has been avoided…or guaranteed? As the heroes of the Valiant Universe fall and nature itself turns on humanity, all that stands between the devastated planet and ultimate evil is the Earth's undying Fist and Steel himself…Gilad Anni-Padda, the Eternal Warrior!
On September 23rd, Valiant superstars Robert Venditti, Robert Gill, and Doug Braithwaite force BOOK OF DEATH toward a century-shattering crossroads as Master Darque returns…and the Earth shudders in his wake…only in BOOK OF DEATH #3 (of 4)! Featuring covers by Cary Nord (X-O MANOWAR), Clayton Crain (RAI), Stephen Segovia (NINJAK), Pere Pérez (ARCHER & ARMSTRONG), and Paolo Rivera (THE VALIANT), the last stand of Valiant's greatest heroes continues right here in the sold-out, smash-hit event that is taking fans and critics by storm:
"9/10… [An] epic crossover done right… [BOOK OF DEATH] has all the makings of another instant classic from the always entertaining Valiant Universe." – Bloody Disgusting
"★★★★1/2… Epic… Valiant has a hit on their hands. This is definitely one to check out…" – Comics Bulletin
"Robert Venditti, Robert Gill, and Doug Braithwaite are one hell of a team… This is a must buy." – Comic Vine
"Whether you're a hardcore Valiant fan or just curious about this rapidly expanding superhero universe, this is a comic you'll want to check out." – IGN
"It really is the best kind of crossover… BOOK OF DEATH is a bold entry point into the Valiant Universe and, for long time fans, a crossover that seems to validate tons of long-term stories." – Multiversity Comics
Featuring the last stands of Valiant icons, the first appearances of all-new heroes, and tantalizing clues of future events, BOOK OF DEATH is the gateway to the next decade of the Valiant Universe and beyond!
Plus: the comic book event of the summer continues in between each issue of BOOK OF DEATH with four visionary tales of present and future ripped directly from the pages of the Book of the Geomancer! Each month, join an all-star cast of creators as they come aboard the year's monumental comics event to chronicle the ultimate fate of Valiant's most indelible heroes. From the modern day to the far future, the destinies of Bloodshot, Ninjak, the Harbinger Renegades, X-O Manowar, and more will stand revealed in four essential, standalone chapters at the epicenter of BOOK OF DEATH:
BOOK OF DEATH: THE FALL OF BLOODSHOT #1 (SECOND PRINTING)
Written by Jeff Lemire; Art by Doug Braithwaite
Cover by Rafa Sandoval
ONE-SHOT | On sale in August
BOOK OF DEATH: THE FALL OF NINJAK #1
Written by Matt Kindt; Art by Trevor Hairsine
Cover by Kano
ONE-SHOT | On sale in August
BOOK OF DEATH: THE FALL OF HARBINGER #1
Written by Joshua Dysart; Art by Kano
Cover by Raul Allen
ONE-SHOT | On sale in September
BOOK OF DEATH: THE FALL OF X-O MANOWAR #1
Written by Robert Venditti; Art by Clayton Henry
Cover by Cary Nord
ONE-SHOT | On sale in October
BOOK OF DEATH #1 (of 4) SECOND PRINTING
Written by ROBERT VENDETTA
Art by ROBERT GILL and DOUG BRAITHWAITE
Cover by ROBERT GILL (JUN158249)
$3.99 | 40 pgs. | T+ | On Sale AUGUST 19 (FOC – 7/27/15)
BOOK OF DEATH: THE FALL OF BLOODSHOT #1 SECOND PRINTING
Written by JEFF LEMIRE
Art by DOUG BRAITHWAITE
Cover by RAFA SANDOVAL (JUN158587)
$3.99 | $32 pgs. | T+ | ONE-SHOT | On Sale SEPTEMBER 2 (FOC – 8/10/15)
BOOK OF DEATH #2 (of 4)
Written by ROBERT VENDITTI
Art by ROBERT GILL and DOUG BRAITHWAITE
Cover A by CARY NORD (JUN151591)
Cover B by CLAYTON CRAIN (JUN151592)
Cover C by KANO (JUN151593)
Valiant Icons Variant by PERE PÉREZ (JUN151594)
Artist Variant by PAOLO RIVERA (JUN151595)
$3.99 | 40 pgs. | T+ | On Sale AUGUST 19 (FOC – 7/27/15)
BOOK OF DEATH: THE FALL OF NINJAK #1
Written by MATT KINDT
Art by TREVOR HAIRSINE
Cover A by KANO (JUN151597)
Cover B by CLAY MANN (JUN151598)
Variant Cover by ROBERT GILL (JUN151599)
Variant Cover by DAS PASTORAS (JUN151600)
$3.99 US | 32 pages | T+ | ONE-SHOT | On Sale AUGUST 26 (FOC – 8/3/15)
BOOK OF DEATH #3 (of 4)
Written by ROBERT VENDITTI
Art by ROBERT GILL and DOUG BRAITHWAITE
Cover A by CARY NORD (JUL151656)
Cover B by CLAYTON CRAIN (JUL151657)
Cover C by STEPHEN SEGOVIA (JUL151658)
Valiant Icons Variant by PERE PÉREZ (JUL151659)
Artist Variant by PAOLO RIVERA (JUL151660)
$3.99 | 40 pgs. | T+ | On Sale SEPTEMBER 23 (FOC – 8/31/15)
BOOK OF DEATH: THE FALL OF HARBINGER #1
Written by JOSHUA DYSART
Art by KANO
Cover A by RAUL ALLEN (JUL151661)
Cover B by FRANCIS PORTELA (JUL151662)
Variant Cover by RYAN LEE (JUL151663)
Variant Cover by ROBERT GILL (JUL151664)
$3.99 US | 32 pgs. | T+ | ONE-SHOT | On Sale SEPTEMBER 30 (FOC – 9/7/15)
BOOK OF DEATH: THE FALL OF X-O MANOWAR #1
Written by ROBERT VENDITTI
Art by CLAYTON HENRY
Cover A by CARY NORD
Cover B by STEPHEN SEGOVIA
Variant Cover by RYAN LEE
Variant Cover by DIEGO BERNARD
$3.99 US | 32 pgs. | T+ | ONE-SHOT | On Sale OCTOBER 21 (FOC – 9/28/15)
BOOK OF DEATH #4 (of 4)
Written by ROBERT VENDITTI
Art by ROBERT GILL and DOUG BRAITHWAITE
Cover A by CARY NORD
Cover B by MICO SUAYAN
Cover C by MARGUERITE SAUVAGE
Valiant Icons Variant Cover by PERE PÉREZ
Artist Variant by PAOLO RIVERA
$3.99 | 32 pgs. | T+ | ONE-SHOT |On Sale OCTOBER 28 (FOC – 10/5/15)