30 Years of LOVE AND ROCKETS!

Press release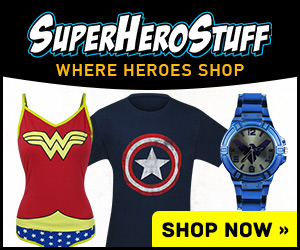 30 Years. Three. Zero. In 1982, Gilbert, Jaime and Mario Hernandez published their first comic with Fantagraphics, which debuted at that year's Comic-Con International in San Diego. In 2012, Fantagraphics Books announces the best anniversary present you can give the comics making trio: a year of celebrating Love and Rockets.
Jaime Hernandez remembers his first Comic-Con well. "The first time we spotted Love and Rockets some guy was already selling it for half-off." Fellow professionals took an interest in the Hernandez brothers' creation. "Chris Claremont walked up and joked that all the women on the cover should have 'X'es on their belts," Jaime joked. "I brought along some pages from the next issue and Frank Miller looked through them 'studying' my inking style."
Thirty years later, fans will line up around that same block to get books signed at this year's Comic-Con International, where Gilbert and Jaime Hernandez are invited special guests of the show and will even have a special section devoted to their work in the official convention souvenir program. Look for a major Love and Rockets-related announcement to be made at the show as well during the Love and Rockets panel on Saturday (see below for more details).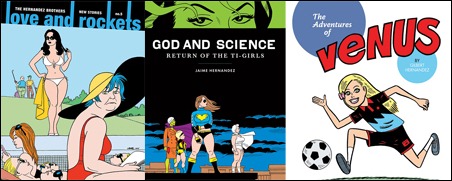 Fantagraphics and the Hernandez Brothers will debut three new books at the show. First up is the newest work by Gilbert and Jaime, Love and Rockets: New Stories #5 , featuring Gilbert's return to Palomar and Jaime's much-anticipated follow up to "The Love Bunglers" (from #4). Also debuting is God and Science: Return of the Ti-Girls, Jaime's superhero epic combining material from Love and Rockets: New Stories #1 and #2 plus 30 all-new pages by Jaime. Meanwhile, don't forget the children: Comic-Con also hails the release of Gilbert's children-focused graphic novel, The Adventures of Venus.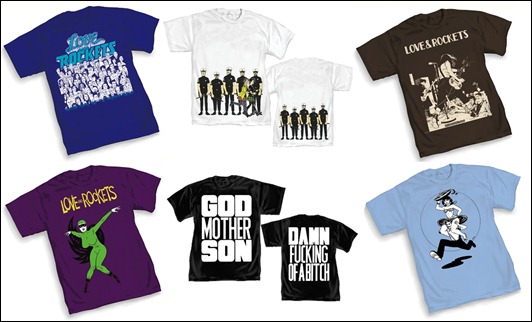 Fantagraphics is also partnering with Graphitti Designs for the 30th Anniversary and debuting six new Love and Rockets t-shirts at the show. SDCC attendees might want to pack one shirt less for the show, instead picking up one of these colorful designs featuring their favorite Hernandez characters for a great price of $18.99 each, available at the Fantagraphics booth.
Panel by panel and page by page, Fantagraphics is proud to have a thirty year relationship with such prolific creators as the Hernandez Brothers and welcomes all SDCC attendees to come to the Fantagraphics Booth (1718-1722) and visit these special guests, who will be signing daily. Also, don't miss the 30th Anniversary of Love and Rockets panel on Saturday at the con, from 1:30pm – 3:00pm in Room 24ABC. Fantagraphics publisher Gary Groth will moderate a lively trip down memory lane with all three Hernandez Brothers and make a major announcement regarding the future of the series.
For more information as it is released, check the Fantagraphics blog for announcements. Thirty years of the Love and Rockets is at your fingertips!
– The Comic Book Critic