Discussion: Batman: Li'l Gotham #1
Now this is what comics should be about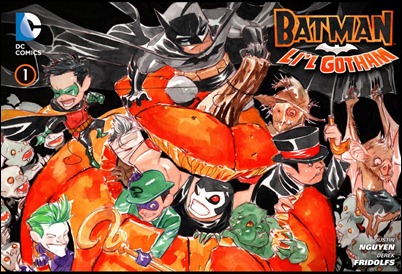 Writer: Dustin Nguyen, Derek Fridolfs
Pencils: Dustin Nguyen
Cover Art: Dustin Nguyen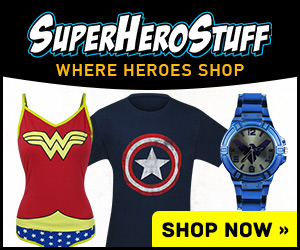 Publisher: DC
Cover Date: 10/31
Cover Price: $ .99
I can't really say I've got my finger on the pulse of the comics community. I try and keep up with THE news and such, but… you know. Things happen. Things like… Li'l Gotham (now that's what we in the biz call a "segue"). This one almost got under my radar. Almost. And thank the maker it didn't. Because, this is a great li'l (get it? "Li'L"?!?) book.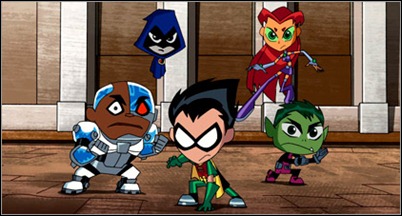 Loved when they went all "chibi" in the show
To me, Li'l Gotham is what comics are all about. It's what I love the most about them. The book is fun. It's random. It's a little bit like Cartoon Network's Teen Titans. It pokes fun at itself. The banter between Bruce and Damian? It's great. Damian questioning Bruce. Bruce tolerating Damian's flipping annoying questioning of everything. I know Bruce just wants to tell him the shut up and do what I tell you to do.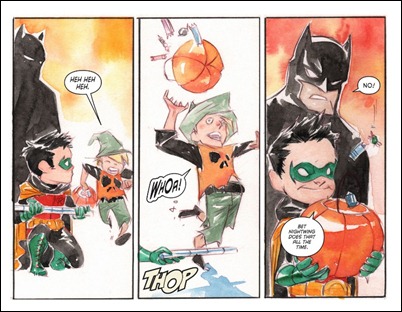 I bet he does too, Damian. When no one's looking, though
And I'm a big fan of the book's art. The watercolors are a nice touch. I don't know if they're "real" or not. It doesn't matter, really. The style is a li'l (get it? "Li'L"?!?) reminiscent of Jim Lee's run on Hush a few years back. I really liked how Lee did the flashbacks in watercolor, in those books. Li'l Gotham, although not somber the way Hush's flashbacks were, is a fun use of medium.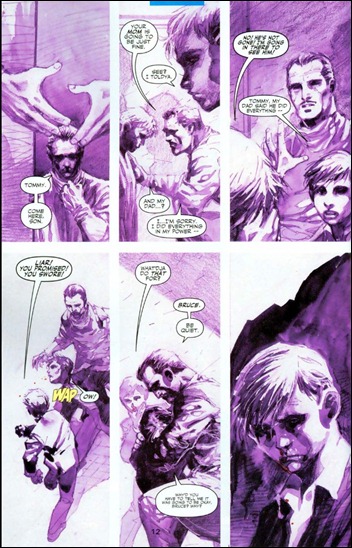 Batman #610
Here's the problem (yes…there's always a "problem" with me) with the book. It's digital only! Look, the wave of the future is probably digital. And, yes, I do read a portion of my books digitally but your friendly neighborhood jman likes to hold a comic book in his hands once in a while. Especially the ones that I really like the artwork. And Li'l Gotham is definitely one of those books.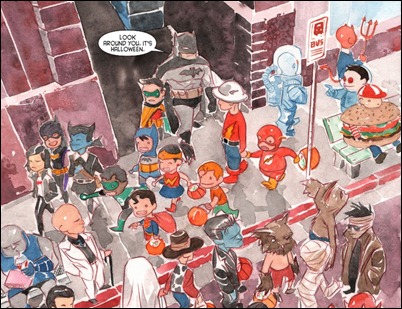 Is that Woody!?!?
So…DC…can we get this book out to print ASAP?!?!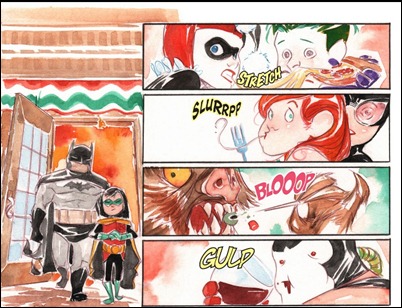 SNAGGED!!!!
Image courtesy:
Teen Titans: dcnation.kidswb.com
by Fadderly
Just a dude. Telling stories. Raising kids.
Fadderly.com